'Last Man Standing' Update: CMT reportedly not picking up ABC comedy because of cost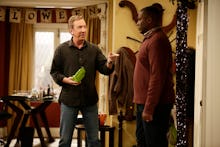 This should not come as much of a surprise, but it appears that Last Man Standing will remain canceled. According to the Hollywood Reporter, talks between CMT and production studio 20th Century Fox Television broke down over cost.
This news comes less than a week after reports indicated that CMT was in preliminary talks to pick up the Tim Allen-starring comedy. While CMT would have been a solid home for Last Man Standing, considering the series already airs on the network in syndication, it was always seen as a bit of a long shot for the comedy to actually land there.
Due to Tim Allen's star status, the comedy had a relatively hefty production cost, and it is possible that the cast would have been forced to take a pay cut for CMT to make a deal work. Apparently, one reason ABC canceled the series in the first place was because Allen was asking for a pay raise.
Fans of the recently canceled comedy were likely holding out hope that CMT could do for them what the network did for dedicated viewers of Nashville, another former ABC series. When ABC canceled the drama after four seasons, CMT picked up the series for a fifth season, which is currently airing.
CMT was able renew Nashville thanks to a partnership with Hulu, which relieved some of the financial burden for the network. Should CMT have decided to move forward with reviving Last Man Standing, the network may have been forced to explore similar cost-sharing options.
Now that talks have broken down with CMT, it is unclear whether 20th Century Fox TV will look at revival options with other networks. But with the cast only under contract until June, the studio will have to act quickly. It is looking more and more likely that Last Man Standing fans should probably make peace with the fact that the show is not coming back.
Mic has ongoing coverage of TV. Please follow our main TV hub here.