Resistance takes center stage at the Dolce & Gabbana runway show as model makes surprise protest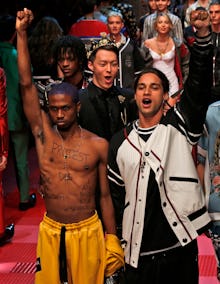 Controversy continues to swirl around the Dolce & Gabbana brand, from its open support of dressing Melania Trump, to its recent T-shirts mocking the people protesting them, to their trolling of singer Miley Cyrus on Instagram over her calling them out for their political beliefs. And those controversies apparently weren't lost on at least one model who walked in the millennial-themed D&G show at Milan men's fashion week over the weekend.
During the finale, one model in the show, the Atlanta musician Raury, appeared shirtless with the words "Protest," "I am not your scapegoat" and "DG Give Me Freedom" written across his chest. At one point, he held his fist in the air with another model beside him.
In an interview with GQ, Raury revealed that his decision to stage this silent protest was a last-minute one, after he learned of D&G's shirts mocking protests the day before.
"Boycotting matters. Boycotting is real," Raury said. "Dolce's entire campaign says it's not real. I know that if I walk out there and support or endorse anything that sits next to Trump — or support someone who even makes dinner for Trump or whatever — then that means that I support Trump also. I don't support Trump. So I'm trapped, and I have to let people know that I don't support Trump and I don't support those who are trying to undermine the voice of the people."
Ultimately, Raury walked the runway for them twice — once wearing a bright yellow tracksuit by the brand and then a second time during that finale, when all the models gathered on stage, which is when he decided to take his shirt off and reveal his message.
He landed on the messaging of "I am not your scapegoat" after feeling like D&G was using these young people, many of whom Raury think had no idea about the Trumps or the T-shirts, to erase some of the controversy.
"So here I am, about to be like, 'Dolce & Gabbana is cool,' but I didn't know what they had done," Raury said. "And a lot of [models in the runway show] didn't know what they had done. I felt like Dolce & Gabbana was literally trying to use the youth to wash their hands of any sort of heat from anyone who wants to protest against them."
After fleeing from the show, Raury remains proud of his decision to use this platform for protest. He was, after all, the only young model who used the runway for any sort of resistance to the brand.
"I felt like if nothing happened, then they would be right. And that T-shirt would be right," Raury said. "Dolce would think they can talk shit about people boycotting, support the first lady of a president who is very parallel to Hitler and bring the millennials and put them in that shit and nothing would happen. But it's basic math. One plus two equals three. And this is what will always happen."
Mic has reached out to Raury for further comment.