'Wheel of Fortune' issues statement after appearing to use slave background in "Southern Charm" week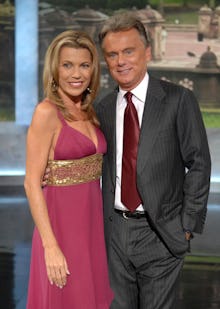 Wheel of Fortune is facing backlash from viewers after a June 15 episode featured a background that appeared to depict two black slaves on a plantation. The episode in question was aired as part of the game show's "Southern Charm" week.
In response to the controversy, series executive producer Harry Friedman has issued the following statement to Entertainment Weekly: "We regret the use of this background image, and we will be replacing it moving forward on any rebroadcast."
Photographer Joshua Itiola posted a short video on Twitter including the image, asking, "Someone please tell me why @WheelofFortune has slaves in their 'Southern Charm Week' images?" Itiola's tweet, which can be seen below, has been retweeted more than 3,000 times, and has prompted hundreds of comments criticizing the show.
Sources told Entertainment Weekly that the image was shot in 2005 at Oak Alley Plantation in Vacherie, Louisiana, while the series was filming on location around New Orleans. The women seen in the background are tour guides employed by Oak Alley.
A spokeswoman for Oak Alley told the New York Daily News that the plantation does not employ actors to depict slaves. Plantation representative Hillary Loeber did say that the venue hires people of all skin colors as tour guides, and that they wear period clothing, which includes plantation-era skirts, as seen in the image.
It appears that this is not the first time that Wheel of Fortune has used this image in a broadcast. A quick search on Twitter reveals that viewers expressed similar outrage after a March broadcast of "Southern Charm" week. As seen below, hosts Pat Sajak and Vanna White are in different clothing than the image in Itiola's tweet above.
Mic has ongoing coverage of TV. Please follow our main TV hub here.