Lorde tweets apology after comparing Taylor Swift's friendship to an "autoimmune disease"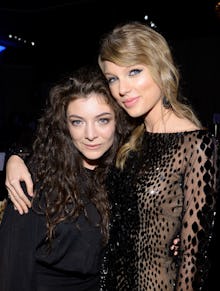 Lorde may have just dropped her new album Melodrama, but it's not the only aspect of her life that deserves that title. In a recent interview with the Guardian, Lorde made an off-handed comment about how difficult it is to be friends with someone as famous as Taylor Swift.
It's like having a friend with very specific allergies. There are certain places you can't go together. Certain things you can't do. There are these different sets of considerations within the friendship. It's like having a friend with an autoimmune disease.
Not surprisingly, the analogy irked many fans, who then took to Twitter to explain to Lorde why it wasn't just inaccurate, but offensive.
It didn't take long for Lorde to receive the message and respond with an apology tweet. The tweet was directed at Stephanie Marie, Editor of SBS Sexuality who invoked the name of Selena Gomez in her comment to Lorde, because, unlike Swift, Gomez actually suffers from an autoimmune disease.
Swift has yet to make a public comment about the incident, but Lorde and Swift just celebrated their three-year friendship anniversary. They've weathered similar instances of the media sensationalizing small issues in the past.
Mic has ongoing Lorde coverage. Follow our main Lorde hub here.