'Sims 4' Fitness Stuff Pack Release Time: Countdown to the update launch winds down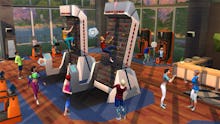 It's no secret that The Sims 4 updates tend to be eclectic. Over the game's lifespan, we've seen an update that allowed for gender fluidity, as well as one that let you be a vampire. The latest update, the Fitness Stuff Pack, is a lighter update, but one that will doubtless be appreciated for anyone looking to let their Sims look a little sportier with fitness apparel, in addition to adding a lot of new fitness-based objects for them to interact with.
If you're a little curious as to what time the Sims 4 Fitness Stuff Pack update drops, we've got some ideas. Read on below.
Sims 4 Fitness Stuff Pack release time: When will it arrive?
The official Sims 4 page for the update states that the fitness stuff pack will be released today on June 20, but doesn't give much more information than that, instead choosing to focus on the various accoutrements your Sims can expect to take advantage of in the update.
The Sims Community website however, has a slightly more accurate prediction. They think it'll be available around 1 p.m. Eastern. The website notes that this isn't an exact estimate, and you might even get it a few minutes early.
The Sims 4 fitness stuff pack will contain all sorts of new athletic equipment for your Sims to exercise on, including a rock climbing treadmill and some swank new objects for your Sim's home that promise to make it "a relaxing sanctuary." The update will also allow you to customize gyms, dress your Sims in sporty little workout gear and even get them to pump themselves up with earbuds.
Working out in real life may be a drag, but hopefully this update will make it more fun for your Sims.
More gaming news and updates
Check out the latest from Mic, like this essay about the sinister, subtle evils lurking in rural America that Far Cry 5 shouldn't ignore. Also, be sure to read our review of Tekken 7, an article about D.Va's influence on one Overwatch player's ideas about femininity and an analysis of gaming's racist habit of darkening villains' skin tones.