Barbie's Ken finally gets the body-positive, inclusive makeover he's long-deserved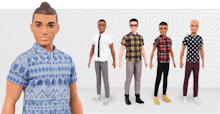 Barbie, the great trendsetter that she is, has finally influenced her beau since 1961, Ken. The Ken doll you grew up with was probably all tanned and svelte and perpetually buff, with six-pack abs and biceps the size of his head. But no more.
Ken now can be Asian. He can be multi-racial. He can be Latino. He can be skinny. He can be "broad," a more male-sounding term for "plus-sized." He can be slim. He can have cornrows. He can have, yes indeed, a man bun.
On Tuesday, more than one year after Mattel officially revealed a new collection of diverse Barbie dolls in various sizes and skin tones, Mattel officially revealed its collection of 15 diversified Ken dolls, which are available in "broad," "slim" and "original," and in seven skin tones, eight hair colors and nine hairstyles, from cornrows to the infamous man bun.
Already coined as "Next Gen Ken," the collection has been something fans have been asking for for a long, long time. Almost immediately after Barbie got her body-positive makeover, companies like Lyst released images of what it'd look like for Ken to get his own. Then the company Lammily, which is a constant producer of progressive dolls, petitioned for a more realistically-proportioned male doll.
But now these dolls are real, and Mattel's actually done a good job with this one. There are the diverse sizes and hairstyles and races and skintones, and one even features freckles.
"We are committed to offering a more diverse and inclusive line of doll," Michelle Chidoni, the vice president of global brand communications at Mattel, said in a statement to Mic. "Barbie and Ken have always been story-starters for a child's imagination and adding more variety to the line offers more opportunity for storytelling potential."
Indeed, now tall Barbie can go out with broad Ken, or petite Barbie can go out with slim Ken or original Ken can go out with broad Ken. The possibilities here are nearly endless.
By infusing more diversity into its dolls too, Barbie is making celebrating an array of bodies and appearances more mainstream. In a time when body positivity is extending towards men and beyond, it's smart timing too.