A lost collection of Nazi artifacts was just found in a hidden room in Argentina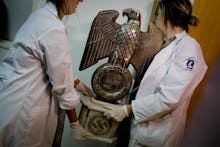 Argentine officials say they have found what is believed to be the largest collection of Nazi artifacts ever discovered in Argentina, the Associated Press reported. The trove of artifacts was found in a secret room hidden behind a bookshelf in a collector's home.
Officials made the discovery earlier in June, during a raid on the home of the collector, whose name has not yet been released. The raid was the result of an investigation into art of "illicit origin" that had been found in a gallery in Buenos Aires.
When the officials raided the collector's home, they discovered a secret passageway hidden behind a bookshelf. It lead to the collection of around 75 Nazi artifacts, believed to have belonged to "high-ranking" Nazi officials in World War II-era Germany.
The collection included boxes decorated with swastikas, a bust of Adolf Hitler, a medical device used to measure head size and children's toys.
"Our first investigations indicate that these are original pieces," Argentine security minister Patricia Bullrich told the AP on Monday, adding that along with the items, officials say they also discovered photographs of Hitler himself with some of the objects in the collection.
It's not yet clear how the artifacts wound up hidden in the collector's home, but, according to the AP, investigators believe they may have been brought from Germany to Argentina by one or more high-ranking Nazi officials who fled Germany after the war to escape prosecution for war crimes.
"There are no precedents for a find like this," Nestor Roncaglia, Argentina's head of federal police, told the AP. "Pieces are stolen or are imitations. But this is original and we have to get to the bottom of it."