The coolest, most affordable hotels in every major American city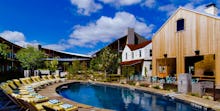 From New York and Boston to Los Angeles and San Francisco, it's no secret that many America's biggest cities can be hard on the wallet. But if you know where to look, you can still afford to stay in a restored landmark hotel or a design-forward motor lodge the next time you hit town for business or pleasure.
These 18 boutique hotels have it all: comfort, thoughtful decor, distinctive personality and wallet-friendly rates. Plus, they've got stellar restaurants, bars, pools and other reasons never to leave the property.
For reference, each hotel's estimated price reflects the lowest rate available for a one-night, mid-week summertime stay — e.g. a Tuesday or Wednesday night — booked about two weeks in advance. We hope you enjoy your stay.
With its winding expressway and a seemingly endless ring of suburbs, first-timers might find Atlanta a bit difficult to navigate. Staying at the centrally located Glenn Hotel will make it easier. With over 100 rooms, this hotel combines the personality of a boutique with all the amenities of a trusty chain: comfortable rooms, luxe bedding, a gym and dining options like a fantastic Southern restaurant, a rooftop bar and a lounge bursting with warm leather and exposed brick.
Estimated cost: $120/night
Austin has no shortage of character, and no hotel exemplifies the city's offbeat charm better than Lone Star Court, a sprawling hipster haven where travelers can find dude ranch-style furnishings within the colorful bedrooms. The hotel even has its own outdoor fire pit. Guests can lounge poolside or throw back a few cold ones at the airy Watering Trough bar.
Estimated cost: $160/night
Envision's newest hotel is in Everett, just outside of Boston. But what this gem lacks in location it makes up for with amenities like plush robes, C.O. Bigelow bath products and a cool industrial feel — steel fixtures, antique maps and a front desk covered in vintage suitcase handles. Dining-wise, you're set with room service and a damn fine cocktail bar.
Estimated cost: $160/night
Due to its prime Near North location, updated rooms with floor-to-ceiling windows and relaxed yet sophisticated vibe, the Dana has long been a Windy City favorite. But in 2017 it achieved legendary status thanks to Apogee, a new rooftop lounge. It's a 26-story-high cocktail emporium from prized restaurant group Fifty/50 and headed by mixology wizard Benjamin Schiller. Spa services are definitely worth the splurge, but book early since the spa is open to the public.
Estimated cost: $155/night
Situated across the street from Denver's lavish Performing Arts Complex, this 110-room boutique hotel is known for its eclectic decor, high ceilings, deep soaking tubs and, most importantly, stunning Rocky Mountain views. (Grab a room with a balcony for the full Mile High experience.) Other perks include the ground floor restaurant, the Nickel, a sunlit new American spot. Pets stay for free so you can even bring your favorite four-legged travel companion.
Estimated cost: $175/night
Detroit might not top your vacation bucket list yet, but you'll fall in love with the Motor City vibe at Trumbull and Porter. A palette of grays, blues and whites gives the guest rooms a crisp, clean feel, while furniture crafted by Michigan artisans adds local flavor. There's a well-stocked gym for workout buffs, as well as a lobby bar where tourists and business folk rub elbows with D-town's trendiest over frothy cappuccinos and snacks. Feeling inspired? Rent one of the hotel's custom black bikes and explore the city in style.
Estimated cost: $180/night
Celebrity chefs are flocking to Houston, opening up cafes where dusty saloons once stood. The vibrant Hotel Derek fits right in with the city's fresh facelift. The space is all high windows, polished wood and mid-century modern elegance accented by contemporary art and finished with a cozy pool. The restaurant serves Texas-influenced cuisine and craft beer, and there's a Starbucks downstairs to kickstart your mornings.
Estimated cost: $95/night
Hollywood glam meets Brooklyn cool at this 108-room Sunset Strip sleeper hit. Each room plays with an Art Deco-inspired mix of leather and metal — there are artful light fixtures, downy bedding and vivid red accent pieces. Slip on some oversized shades, order up something fruity from the Mad Men-esque cocktail lounge and make your way out to the heated saltwater pool for a real taste of La La Land bliss.
Estimated cost: $180/night
This minichain's lively Miami outpost offers both private rooms and hostel-like bunks, all done in a gorgeous, minimalist aesthetic. Nobody comes to Miami Beach to get some shut eye, and at the Freehand, it's all about the lush courtyard garden, Instagram-ready pool and the main event: the Broken Shaker, a multi-award-winning cocktail joint with a strong cult following. The creative beverage program is practically guaranteed to keep the party raging all night long. And with nightly rates that won't break the bank, you can afford another round — or two.
Estimated cost: $110/night
Between the hot chicken and the increasingly diverse music scene, Nashville has become one of America's most visited cities. While the hotel scene has, on the whole, been slower to embrace trends, centrally located Hotel Preston is paving the way with its fashionable rooms, relaxing outdoor pool and restaurant bar with just the right amount of country twang. Spice up your stay by requesting a goldfish bowl — complete with a live goldfish — for your nightstand. Now that's a perk.
Estimated cost: $110/night
Q&C is much more than just a hotel. This downtown stunner puts its cocktail savvy on display inside the ruggedly handsome lobby bar, an inviting space bursting with all the cool-kid essentials: upscale comfort food, clever riffs on cocktail greats, natural light, exposed brick, an old-fashioned table shuffleboard and worn leather everything. And, as luck would have it, the bright guest rooms, with their offbeat wallpaper, cozy platform beds and subway-tiled bathrooms, are a fantastic place to lay your head after one too many Sazeracs.
Estimated cost: $95/night
New York City is flush with incredible hotels, of course, but if it's boutique bang for your buck you want, it's Arlo all the way. On the border between SoHo and TriBeCa, this 325-room newcomer is ideal for travelers with an eye for seamless design, a taste for Old Fashioneds, and sweeping rooftop views. Stuff your face with the smoky, wood-roasted meats served at Harold's Meat and Three on the ground floor. The rooms are on the small side — this is New York City, after all — but come with brilliantly efficient (and super cool) features like canopied beds and built-in TVs.
Estimated cost: $145/night
Considering Philadelphia is one of the country's oldest cities, it's only fitting that the city's best boutique is housed in a 110-year-old building in the heart of the historic district. A leader in the boutique chain field, Kimpton is famous for its attention to detail, and Hotel Monaco, with its cool marble desks, posh armchairs, period wallpaper, deep soaking tubs and rooftop Stratus bar, lives up to the chain's reputation. History nerds, you've arrived.
Estimated cost: $160/night
Once upon a time, most hotels fell into two categories: cheap and grimy or black-tie bougie. Then came Portland, whose early-oughts cultural gold rush led to a rash of millennial-geared hotels that were just as fun as they were functional. All these years later, PDX still has a plethora of affordable cool-kid options. At the perpetually bustling Jupiter, the playful decor (taxidermy art), hip restaurant and relaxing courtyard attract a constant stream of guests who just can't wait to put a bird on it. Pro tip: Request a room on the "chill side" if you really need to curl up in your flannel and catch some z's.
Estimated cost: $152/night
San Diego's Gaslamp Quarter is cool and central, which makes the nearby Pearl the ultimate place to call home in this city. The building is over 225 years old, but inside it's as modern as can be, with mirrored ceilings, smooth tile floors, a bar and restaurant and poolside cabanas. Make sure your trip coincides with the Pearl's weekly poolside film screening party, cheekily dubbed the "dive-in theater."
Estimated cost: $155/night
Estimated cost: $140/night
This Beaux Arts darling is filled with modern art and rock 'n' roll photographs, setting the tone for a spirited stay. Expect brightly accented rooms, farm-to-table fare from James Beard Award-winning chef Jason Wilson and lots of local craft beer. And the Hotel Max is within walking distance to just about everything — Pike Place Market, renowned restaurants, bars and coffee shops — so even if you catch Seattle on a rainy day, you won't be far from the city's best sights.
Estimated cost: $165/night
Classic design meets new-world luxury inside this century-old landmark building, which sits just over a half-mile from the White House. Complimentary yoga mats, massive soaking tubs, evening wine receptions, a craft cocktail bar and a seasonal rooftop pool set this beautiful hotel apart from the pack — not to mention its comparably dirt-cheap rates. Feeling tired after hoofing it around the monuments all day? Treat yourself to one of the hotel's many in-room spa services before hitting the restaurant, Radiator, for some rejuvenating comfort and a crisp craft beer.
Estimated cost: $170/night