Steve Bannon says there are fewer press briefings because Sean Spicer "got fatter"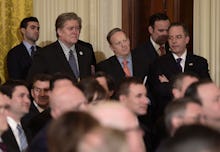 Since President Donald Trump first took office, the number of on-camera White House press briefings has strangely declined. What's even stranger, is senior Trump aide Steve Bannon's explanation for it.
In a recent story for the Atlantic, reporter Rosie Gray reached out to several members of the administration to ask why the administration was holding fewer and fewer on-camera briefings.
"Neither [Sean] Spicer nor deputy press secretary Sarah Sanders responded to queries about the changes to the briefings," Gray wrote. "Asked why the briefings are now routinely held off-camera, White House chief strategist Steve Bannon said in a text message 'Sean got fatter,' and did not respond to a follow-up."
Bannon's comment on Spicer appears to have been tongue-and-cheek. But, aside from lacking the decorum of a White House aide, Bannon's attempt to dodge the question belies bigger transparency issues.
Last month the president openly mused about canceling the briefings altogether in a tweet.
In February, Politico reported that Trump was upset by Melissa McCarthy's portrayal of Spicer on Saturday Night Live. And rumors have swirled about potential plans to replace Spicer for months.
But Trump may have found a way to avoid replacing his press secretary by simply reducing the time he spends answering questions in the public eye.