Confederate soldier statue is removed from Orlando's Lake Eola Park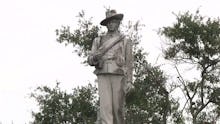 Crews in Orlando, Florida, began removing a 106-year-old Confederate statue from Lake Eola Park on Tuesday in response to residents labelling it a symbol of racism, WFTV reported.
The statue, nicknamed "Johnny Reb," will instead be moved to the Confederate soldier section of the historic Greenwood Cemetery.
The removal has been a hot topic among Orlando residents. In 2015, some residents created a petition calling for the removal stating that they did not "need any depictions of such vile intolerance overtly exhibited." The pressure for Orlando Mayor Buddy Dyer to comply grew as local blogger David Porter called the statue an "icon of white supremacy."
The statue, originally commissioned by the Orlando chapter of the Daughters of the Confederacy, is the latest Confederate monument to be mired in controversy. In May, white nationalists marched in Charlottesville, Virginia, to protest the removal of a Robert E. Lee statue in the city's Lee Park. In New Orleans, officials recently took down a monument dedicated to Confederate President Jefferson Davis.
After protests and petitions, a College Park, Florida, middle school agreed to change its name from Robert E. Lee Middle School to College Park Middle School.
To watch video of crews removing the statue, click here.