Why Is Nintendo Switch Out of Stock? Low supply likely to continue throughout 2017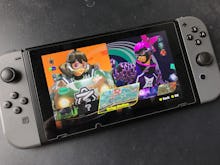 We're all waiting for the point where Nintendo Switch stock will reach a reasonable supply. That day, unfortunately, is apparently still very far off.
The Nintendo Switch has seen restocks on occasion at places like GameStop, Target and Best Buy. Yet we're still not at a point where you can confidently walk into a store and snag Nintendo's handheld, and it may not come anytime soon.
Nintendo Switch stock: Good luck getting one anytime in 2017
If you're trying to buy a Nintendo Switch you may have to wait until 2018, and not because Pokémon still hasn't been announced. According to Niko Partners analyst Daniel Ahmad on Twitter, things aren't looking so hot between now and the end of the year.
Ahmad cites no source when making his claim regarding Nintendo Switch stock. So we'd take his claims with a grain of salt.
Nintendo Switch stock: Will it ever be easy to buy?
Interestingly, this flies in the face of what Nintendo has said about the Switch. According to Financial Times, Nintendo promised we'd see more Switch stock in time for holiday season. The company also claimed there would even be more stock in time for Thanksgiving and late autumn.
It's safe to assume that Nintendo knows its own supply better than analysts. From what we've seen, however, it's tough to put much faith in any claims that the company will have surplus — or even enough — Switch stock. Still, let's hope Ahmad is wrong about this one.
Check out more Nintendo news and gaming coverage
Looking for more Nintendo Switch news? Check out how blind gamers are using the Nintendo Switch and why you can't get your Mii to look quite like you. Nintendo's left Joy-Con issue turns out to be a hardware problem — here's how to solve it. Find out how to buy a console amidst the recent restock. Learn why the Switch cartridges taste so bad. Check out our comparison photos sizing up the Switch to the Wii U GamePad (part one and part two), or find out how to make use of ethernet without the dock and the best way to get alerts when new stock arrives.