'Overwatch' Jinx Hoodies: How and when you can wear your favorite 'Overwatch' character's insignia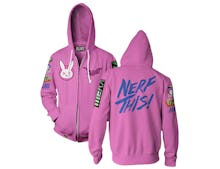 Overwatch has this ability to bring out the mega fan in anyone who plays the game on the regular. Between the collectibles and the official Blizzard merch, an Overwatch fan could be pretty satisfied by the options currently available. But as we look forward to the fall (and the inevitability of dropping temperatures), there's one thing that's missing from almost every Overwatch fan's wardrobe.
An Overwatch hoodie.
Blizzard and Jinx have teamed up to give the stylish Overwatch fans, like yours truly, a chance to wear our favorite character's insignia proudly emblazoned on a snuggly sweatshirt.
Overwatch Jinx Hoodies: Preorders open on June 27, but most don't ship until September
According to Jinx's website, preorders for the Overwatch "Ultimate Hoodie" open on June 27, but the only one that's shipping in August is D.Va's. The rest of the collection starts shipping in September. Following D.Va is Lucio, Genji, Roadhog, Zarya, Reinhardt and Widowmaker.
Check out the preview of each of the hoodies and get ready to open up that wallet on June 27.
More Overwatch news and updates
For more on Overwatch, check out the rest of what Mic has to offer. Here is an intro to the cute, new "Wholesome Overwatch" subreddit, a look at some gorgeous Overwatch-themed PS4 and Xbox One controllers, a cool Easter Egg in the new Horizon Lunar Colony map and a criticism of Blizzard's failures in its design of Symmetra.