In defense of Josh Peck not inviting Drake Bell to his wedding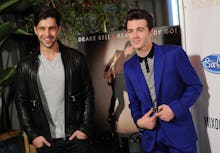 Sometimes friendship isn't forever, especially when you're forking over thousands of dollars to celebrate the happiest day of your life.
Onetime Nickelodeon stars Josh Peck and Drake Bell made headlines on Monday when, in a couple of now-deleted tweets, Bell voiced his disappointment over not getting an invitation to Peck's recent wedding.
The two actors appeared as stepbrothers on the sitcom Drake & Josh, which aired between 2004 and 2007.
Peck married his longtime girlfriend Paige O'Brien on Saturday. But instead of receiving well wishes from his former co-star, the Grandfathered actor was gifted with a bunch of sour grapes:
"When you're not invited to the wedding the message is clear…." Bell tweeted, according to Entertainment Weekly. "Loyalty is key…always remember where you came from."
Although Peck has not addressed his colleague's shade publicly, I stand firmly on Team Josh here. As someone with direct experience in planning a wedding (i.e. my own), the first lesson any bride, groom or potential guest needs to learn is that you are not going to please everyone, so don't even try.
Even though it was made 26 years ago, the classic Steve Martin comedy Father of the Bride remains the gold standard for the soul-crushing stress and financial headaches of planning a wedding. Before I got engaged, I was always scratching my head over why Martin's character, George Banks, couldn't just go with the flow and give his bride-to-be daughter, Annie, whatever she wanted, be it a $1,200 cake or flying in her fiancé's Danish relatives for the ceremony.
But once I was on the other end of the spectrum, and saw how every little extra added up, there I was, scratching my head over why cousins I barely knew were being invited and ultimately making the Pippa Middleton-esque decision to enact a version of the "no ring, no bring" rule.
The bottom line is, weddings are expensive, costing an average of $31,213, according to wedding website The Knot. So if Peck and Bell aren't exactly super tight these days, then you really can't punish Peck for cutting his onetime co-star from the list.
Bell may have been offended by Peck's slight, but even if you do "remember where you came from," that doesn't mean you can invite everyone from your past or present (or should even have to). Both my now-husband and I were given a set number of friends we could have at our wedding, and we stuck to that number. Some people were hurt, but others accepted it as typical wedding-related casualties.
For me, the biggest "loss," if you want to call it that, was that I was unable to invite the majority of my co-workers. By the time I had started working at the music magazine I would call my second home for the next seven years, our guest list was already firmly established and it wouldn't have been fair to start making cuts in order to accommodate my new work friends.
Another thing that Bell needs to remember is that wedding guest lists are a crap shoot. When my husband and I look back at the friends who attended, it's mind-boggling to see how few of them we still keep in touch with, and we always say that if we got married now, the guest list would be quite different. Weddings really end up being just a snapshot of your life at that very moment. Other than family and a select group of friends, it's difficult to stay close with the same people in the years to come.
So by that logic, if Peck had gotten married 10 years ago, perhaps then Bell would've made the cut.
Mic has ongoing coverage of TV. Please follow our main TV hub here.