Actually, there is a 'Wonder Woman' video game — and it's terrible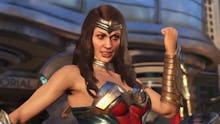 The massive financial and critical success of Wonder Woman may seem like the perfect opportunity to roll out a new video game for the superhero, but we haven't heard a peep from the industry about any plans for Princess Diana. In fact, a series of articles and online forum discussions have highlighted the lack of a single mainstream Wonder Woman video game.
Emphasis on "mainstream," though. After some extensive Googling, we were able to turn up at least one video game starring Wonder Woman. Unfortunately, it's a terrible flash game apparently published in 2011, based on the earliest user comments. But hey, it's something.
Wonder Woman — Last Woman Standing focuses on the hero's ability to deflect bullets with her metal bracelets — which feature prominently in the new film. The goal seems to be to click on the stars displayed onscreen to help Diana protect herself. This doesn't always work, though, and you can actually make it through the first level without blocking a single shot.
To be fair, Wonder Woman has served a supporting role in a numerous video games already, but never as the main character. Most recently, she appeared in Injustice 2. (To compare, Superman has starred in 17 different games.)
We'd love to see Diana take the lead in a new game. Maybe in an Arkham spinoff from Rocksteady Studios, or in a God of War-style game that plays up Wonder Woman's emphasis on Greek mythology.
Unfortunately, it will probably be a while before she gets her own game: Even if there's one already in development, it hasn't been confirmed or announced. If we're lucky, it might happen in time for Wonder Woman 2 — whenever that may be. In the meantime, we'll be here blocking bullets in Last Woman Standing.
More gaming news and updates
Check out the latest from Mic, like this essay about the sinister, subtle evils lurking in rural America that Far Cry 5 shouldn't ignore. Also, be sure to read our review of Tekken 7, an article about D.Va's influence on one Overwatch player's ideas about femininity and an analysis of gaming's racist habit of darkening villains' skin tones.