Georgia Special Election Results: Karen Handel defeats Jon Ossoff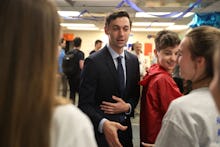 Read Mic's three key takeaways of the Georgia special election and what Democrats say their performance in the race means for the future.
10:13 p.m.: Karen Handel wins
Republican Karen Handel pulled out a victory over Democrat Jon Ossoff in Georgia's 6th District special election on Tuesday night, in the process allowing the GOP to breathe a sigh of relief that it held onto the traditionally Republican seat in the Atlanta suburbs.
Handel defeated Ossoff, 53% percent to 48%, with 81% percent of precincts reporting, according to the Associated Press. She will succeed GOP Rep. Tom Price who vacated his seat to serve in the White House as secretary of Health and Human Services.
With her win, Handel took the wind out of the sails of Democrats, who had placed their hopes — as well as millions of dollars — behind Ossoff's candidacy.
Democrats were optimistic that President Donald Trump's unpopularity, as well as a newfound excitement among the Democratic base, would be enough to help the party pick up a seat they hadn't held in decades.
Yet despite all the millions of dollars spent in what was ultimately the most expensive House race in history, Ossoff still lost — giving Republicans, as well as Trump, a much-needed victory as the party tries to pass Trump's agenda.
10:04 p.m.: National Republicans declare victory
The National Republican Congressional Committee — which seeks to elect Republicans to the House — declared victory.
"Nancy Pelosi threw the kitchen sink at her, yet Karen still came out on top and ready to fight for Georgia in Congress," NRCC Chair Steve Stivers (R-Ohio) said in a statement.
10:02 p.m.: CNN calls the race for Handel
CNN projected that Handel will defeat Ossoff, leading to boos from Ossoff's election night headquarters.
9:36 p.m.: The mood at Handel's watch party is bright
People at Handel's election night headquarters are feeling good about her chances, with a local mayor predicting a Handel victory.
With 48% of the election day vote reporting, Handel leads Ossoff by 5 points.
9:16 p.m.: Rep. John Lewis (D-Ga.) fires up Ossoff watch party guests
Civil Rights icon and member of Congress, John Lewis, made an appearance at Ossoff's watch party, thanking volunteers for their efforts and breaking into dance on stage.
"You have made a major down payment on change," Lewis told the crowd.
Lewis added, "You must never give up. You must hold on to your dreams and never give up."
9:14 p.m.: Republican wins South Carolina special election
The little-watched special election in South Carolina's 5th Congressional District is now over.
Republican Ralph Norman beat Democrat Archie Parnell, with Norman taking 52% to Parnell's 48% when the Associated Press called the race. While the GOP held this district, the race was much closer than anyone expected.
8:54 p.m.: Slow going in the vote counting department
Two hours after polls closed and only 9% of precincts are reporting their election day totals.
With those reports in, plus early voting tallies, Handel has a slim lead of 50.2% to Ossoff's 49.8%.
8:36 p.m.: Update from Ossoff's watch party
Mic's Will Drabold reports from Ossoff's election night HQ:
As the latest returns came in at 8:20 p.m. showing Ossoff with a narrow lead, a cheer erupted from the crowd followed by chants of "Flip the 6th!"
Hotel staff said they estimated about 1,000 were in the main ballroom watching the results roll-in a little more than an hour after the polls closed. Ossoff supporters sipped on drinks ranging from $3 for soda to $12 "premium drinks" like Grey Goose vodka and Johnny Walker Black Label whiskey.
"Whatever happens, we have laid the groundwork for the future," said Keith Finger, a marketing executive who has campaigned for Ossoff for months.
Describing his mood, Finger said, "I'm apprehensive — but hopeful."
8:24 p.m.: Surprising numbers in South Carolina
Yes, there's another special election going on tonight in South Carolina's 5th District.
It got little coverage because it's a strong Republican seat that the GOP was expected to easily carry.
But with 35% of the vote tallied, the Democratic candidate Archie Parnell currently has a slight lead over the Republican Ralph Norman.
There was very little polling on the race, but a survey conducted days before the election found Norman with a 9-point lead.
Of course, there's plenty of vote left to be tallied. But it's very likely Democrats will over-perform expectations in this seat.
8:08 p.m.: Early ballots reported
All three counties within the 6th District have reported their early, in-person votes and Ossoff leads Handel, 50% to 49%.
Data gurus say this early vote does not count a chunk of mail-in ballots, which they suggest will be better for Ossoff.
This early vote is much closer than the first round of voting back in April, in which Ossoff had a big lead in ballots cast before Election Day.
7:56 p.m.: Handel makes her first appearance
Handel has greeted supporters at her rally, and told the crowd she's feeling good about her chances.
"Everything we're seeing is really encouraging," she said, according to Politico's Gabriel Debenedetti.
7:41 p.m.: First batch of early votes reported
The first batch of early, in-person vote has been reported out of Fulton County, and Handel has a nearly 3-point lead over Ossoff.
In order for Ossoff to win, he'd need to get 49.5% of the vote out of Fulton Count, according to FiveThirtyEight.
And currently, with the early in-person vote out of the county, Ossoff is at 48.6%.
The New York Times' Nate Cohn says this is a good sign for Handel.
7:22 p.m.: Reading the early vote
As results start coming in, here's a quick guide for what to watch.
The first reported results will be the early vote. Those numbers are expected to be better for Ossoff.
That's both because Ossoff placed a heavy emphasis on the early vote, and because polling over the three weeks of early voting had Ossoff with a lead.
As more results come in, the election is expected to get closer — as ballots cast on Election Day are expected to be favorable to Handel.
Delving deeper into the results, take a look at the totals in each of the three counties within the district — Cobb, DeKalb and Fulton.
DeKalb County is expected to be the most friendly toward Ossoff, while Cobb county is expected to be favorable to Handel.
FiveThirtyEight gave benchmarks Ossoff would need in each county to come out victorious.
7 p.m.: Polls are closed
Voting is done as polls have now closed in Georgia's 6th District (and the lesser-watched 5th District special election in South Carolina).
Two locations in Georgia are remaining open later after a technical glitch delayed voting.
But don't expect results to come in quickly. Georgia is notoriously slow at reporting.
6:49 p.m.: Intense media interest
Ossoff's watch party is teeming with reporters, according to Mic's Will Drabold — who is in the district at Ossoff's Election Day watch party.
As Drabold reports:
Fifteen minutes before the polls closed, the ballroom where Ossoff will greet supporters Tuesday night was overflowing with reporters — and hardly anyone else. Campaign staff added tables to accommodate the interest from journalists. At least a dozen cameras and more than fifty journalists occupied the back of an otherwise empty ballroom. Dozens more credentials went unclaimed shortly before the polls closed.
Handel's event is equally as quiet, according to a photo from the Washington Post's Robert Costa.
6:19 p.m.: Online betting markets give Handel the edge
Online betting markets exist that ask tuned in politicos to put their money on the candidate they think will win.
And PredictIt — one of those political betting websites — has Handel beating Ossoff.
Handel's chances soared as polling in the final days of the race showed her gaining momentum and even surpassing Ossoff by a slim margin.
Roughly 40 minutes before polls close, 58% of PredictIt betters think Handel will win, while 41% think Ossoff will be victorious.
"Until recently, PredictIt traders had shown confidence in an Ossoff victory," PredictIt spokeswoman Brandi Travis said in a news release. "Shares on the likelihood of Ossoff winning closed above shares on Handel winning continuously since May 16 and saw spreads reaching as high as 36 cents on June 11. That trend ended yesterday, June 19, after almost 50,000 shares traded hands."
6:07 p.m.: Polls close in one hour
Voters in Georgia's 6th District have less than an hour left to cast their ballots in what's become one of the most-watched and most expensive special elections in history.
And while the race in suburban Atlanta has taken all the airtime, there's another special election taking place in South Carolina's 5th District.
That race hasn't gotten nearly as much attention or money — largely because it's expected to be a safe Republican seat.
Mick Mulvaney vacated the seat to take a role as director of the Office of Management and Budget.
It's expected to stay in Republican hands. But local reports say turnout is extremely low — which can sometimes lead to surprises.
We'll keep you updated on that race as it unfolds.
5:37 p.m.: Rain, rain go away
It's a deluge in Georgia.
Rain from a tropical storm pounded the 6th District Tuesday afternoon, with flash flooding reported in certain areas.
And it has analysts on both sides wondering whether the weather will have an impact on the election outcome.
Some political scientists have studied weather and its impact on elections, and have concluded that storms such as this one often depress Democratic turnout.
However early voting in this district changes the calculus of those conclusions.
Ossoff placed a heavy emphasis on turning out his voters early, while Handel is counting on an Election Day surge to help carry her to victory. So if the weather kept voters home, that could hurt Handel's hopes.
Either way, onlookers will find out soon enough. Polls close in less than an hour and a half.
5:30 p.m.: Welcome to Mic's special election coverage
Voters headed to the polls Tuesday for the highly anticipated special election in Georgia's 6th Congressional District, the suburban Atlanta House seat that's been billed as the first real test of the anti-Donald Trump resistance.
Democrat Jon Ossoff faces off against Republican Karen Handel to replace Tom Price, who left his seat to become Trump's secretary of health and human services.
Polls show the race is extremely close, with Handel seeing a last-minute surge.
No matter who comes out victorious, the party of the eventual winner will declare the race to be a bellwether for the 2018 midterm elections.
Polls close at 7 p.m. Eastern.
Stay with Mic for live updates, including dispatches from staff writer Will Drabold, who is on the ground in Georgia at Ossoff's Election Night watch party.