'Overwatch' D.Va cinematic short: Blizzard teases big reveal for Friday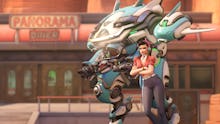 Is Blizzard gearing up to release a new Overwatch cinematic short starring D.Va? Here's what we know so far.
Overwatch D.Va cinematic short: It's been a while since we got a new one
It's been awhile since we've seen a cinematic short for Overwatch. The last one we saw was when Sombra was announced at BlizzCon 2016.
There was a leak in January that predicted qualities about Orisa, and it was fairly accurate. Also on that leak was a rumor that Mei might be the center of a new short. It's been some time, though, and while it might have been true at some point, it seems that Blizzard is taking its time with these shorts.
In fact, just this week, we have might been given a clue of another direction Blizzard is going.
Overwatch D.Va cinematic short: What we know so far
Charlet Chung, the voice actress for D.Va, tweeted a picture of herself with a giant (pretty freaking adorable) Pachimari doll.
Charlet says in the tweet that something will be revealed on Friday, and that there will be sneak peeks all week. However, based on the fact that there are sneak peeks all week, it seems like this can't possibly be the only thing.
Hopefully, it's not just Charlet tweeting pictures every day this week — that would get pretty boring and obvious by Wednesday. Maybe another voice actor, like Jonny Cruz (Lucio) could help tease the big news.
We don't know much for now, though this initial tweet has sparked plenty of speculation. This YouTube video goes over some of the rumors and concludes that it could result in a new short related to D.Va. We won't know for sure until we get official Blizzard confirmation, but our collective fingers are crossed.
More Overwatch news and updates
For more on Overwatch, check out the rest of what Mic has to offer. Here is an intro to the cute, new "Wholesome Overwatch" subreddit, a look at some gorgeous Overwatch-themed PS4 and Xbox One controllers, a cool Easter egg in the new Horizon Lunar Colony map and a criticism of Blizzard's failures in its design of Symmetra.