It's 120 degrees in Phoenix — and inmates at a local jail have to sleep outside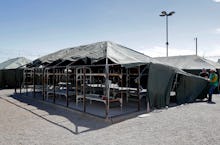 Phoenix is in the middle of a devastating heat wave. Temperatures nearing 120 degrees grounded flights on Tuesday, and physicians are warning of health risks associated with the heat.
But for some inmates in Maricopa County, there is no other option but sleeping outside, even during a heat wave.
In 1993, former Maricopa County Sheriff and controversial Donald Trump surrogate Joe Arpaio erected "Tent City," an outdoor jail complex where inmates were housed in Korean War-era tents and forced to endure the harsh desert weather as part of their sentence, the New York Times reported. Arpaio once referred to Tent City as a "concentration camp."
In April, Arpaio's newly elected successor, Sheriff Paul Penzone, announced that the Tent City complex would shut down after years of criticism from human rights advocates. But months later — even after reports that Tent City had been dismantled — there are still inmates forced to sleep outside in tents even as the temperatures soar.
Joaquin Enriquez, a spokesperson for the Maricopa County Sheriff's Office, said in an email Tuesday that while the "last tent at Tent City did go down" and about 400 inmates were relocated to indoor facilities, there are still 380 inmates remaining in the "con-tents," a part of the outdoor jail complex that houses people on work furlough.
Those 380 inmates leave "to work at their regular jobs" during the day and come back to sleep in the tents at night, Enriquez said.
Plans are still on track to fully shut down the outdoor jail, including the "con-tents," within six months of Sheriff Penzone's April announcement. But for now, inmates are still sleeping in outdoor tents during a brutal heat wave.
"During times like these — high heat warnings — inmates and detention officers are given unlimited access to ice water," Enriquez said, adding that officers pay "close attention" to the condition of inmates.
"If an inmate develops a medical condition due to heat or any other factor, the individual is transferred to Correctional Health Services," Enriquez said.
For local prisoners' rights advocates, the fact that people are being kept outside in the heat is concerning.
"We have always opposed the tent facility, for a lot of reasons, including health reasons," Donna Leone Hamm, the director of Arizona prisoners' rights advocacy group Middle Ground Prison Reform, said in a phone call Tuesday.
"Even though most of these folks may be leaving during the day and coming back at night, it's still 95 degrees at night," Hamm said.
She raised concerns that the extreme heat could be dangerous for anyone with a medical condition that could be worsened by the weather. And even for "a healthy adult male who has no other medical problems, who is drinking and staying hydrated completely," the "oppressive" heat would still feel uncomfortable, she said.
Hamm said that despite the sheriff's office's assertion that inmates are given unlimited access to water, the county is "risking a lot of liability" by exposing so many people to the heat.
Her organization is hopeful that the last remaining tent facilities will shut down along the timeline that Penzone promised in April.
"When the new sheriff came into office, we were very pleased to see that he was immediately intending on getting rid of the tents," Hamm said.
"I wish they would have just wholesale closed them down, but we're willing to accept that he is moving forward to do that ... I would hope that this heat wave would be the incentive."