Georgia 6th Congressional District race by the numbers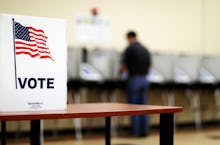 Today, voters head to the polls in a special election to replace former Republican Rep. Tom Price, who vacated his seat this year after President Donald Trump chose him to become secretary of the U.S. Department of Health and Human Services.
Republican candidate Karen Handel faces a tough challenge from Democrat Jon Ossoff, who garnered enough of the vote in the primary election to signal that Democrats have a slight advantage in the race, according to FiveThirtyEight.
Trump tweeted support for Handel, calling Ossoff "weak" and highlighting that he doesn't live in the district he's campaigning to represent.
The Washington Post on Tuesday called the candidates' chances a "coin flip," as final estimates show Ossoff with a 55% chance of winning the seat.
Here are the numbers you need to know.
$50 million
The congressional race, which is already the most expensive in history, may have cost more than $50 million once the expenses are tallied.
30
If Jon Ossoff wins the election, the 30-year-old will become the youngest person to serve as a member of the current U.S. Congress.
1979
Republican Newt Gingrich took Georgia's sixth congressional district seat in 1979 after Democrat John Flynt Jr. declined to seek reelection. No Democrat has occupied the office since.
36%
President Trump's job approval rating in a CBS News poll dropped to 36%, the lowest recorded by the poll during his presidency. Georgia's race is being viewed as a referendum on the unpopular president.
130
That's how many days voters will have waited to cast their ballots since the announcement of the special election. This is longer than recent national election campaigns held in Canada, Australia, Japan and the United Kingdom.