The surprisingly unisex history of the thong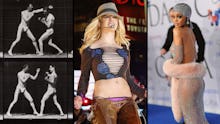 G-string. Whale tail. Butt floss. The thong is one of those items that is so embedded in our current culture, and such a cultural touchstone, that it's almost mythical. But what do you really know about it, other than what it looks like?
Currently, many people may see it as simply another option for something to wear under their clothes, but for years — even centuries — it was a lighting rod for debate, discussion and scandal: from burlesque dancers to, believe it or not, Monica Lewinsky. Its history is a strange one — and a long one, dating back tens of thousands of years. Gradually, it's become normalized, but that tiny slip of fabric and string has gone through a hell of a lot.
Men of ancient times loved a good thong
OK, well, not exactly thong underwear, but some of the earliest cases of garments resembling thongs — in which the buttocks were left revealed and the fabric went in the middle of you-know-where — were recorded in Africa in 42,000 B.C. and were crafted from animal skin and cord, among other things.
This practice spread to Ancient Egypt, as well as Minoan and Mycean cultures (think ancient Greece and Crete) around 1570 B.C. These garments were much like what we know as "loincloths" today. Japanese men got into this trend early, as well, wearing them as part of their sumo wrestling garment as early as 250 A.D.
In all these cases, the thongs were predominantly worn by men. So thanks, guys.
The 1800s: The jockstrap precedes the thong
As people across the world modernized, thongs swayed out of favor, welcoming in more full-coverage and modest garments and undergarments. However, in the 1800s, men donned thong-like garments again.
In 1874, the jockstrap was born as a sort of "athletic supporter" to protect an athlete's genitalia. And by "athletes," we mean male athletes. Jockstraps at that time, unlike most jockstraps now, featured a strap for between the cheeks. Now, compare this garment to what people who weren't athletes were wearing under their clothes: long bloomers, which provided full coverage of everything from the waist, sometimes descending even below the knee.
Quite the difference.
1939: The World's Fair introduces thongs to cover up nude dancers
Isn't it ironic that the real purpose of the first thong underwear explicitly for women was to encourage them to show off less skin, not more? The thong as we know it today made its first appearance at the 1939 World's Fair in New York, and it arose because New York City's mayor at the time, Fiorello La Guardia, had ordered burlesque dancers in the city to cover up.
So, ingeniously, someone (whom we honestly don't know) crafted a pair of underwear that allowed for the butt cheeks to be visible while still covering up the pubic area, thereby inventing the thong as we know it today.
But for most people at that time, extremely large and modest undergarments remained trendy. Thongs were strictly for formerly fully nude, now nearly nude dancers. But that'd change in a few decades...
The 1970s: The thong swimsuit is born
Underwear started getting smaller in the 1960s (blame the tighter clothing), and it was just ten years later — in the 1970s — that the thong finally made it into swimwear.
In 1974, fashion designer Rudi Gernreich invented the very first thong swimsuit, setting a new standard for smaller, tighter, more revealing swimwear. And just one year later, it got a rather fantastic introduction to the world, when top models Lisa Taylor and Jerry Hall were photographed in one-piece black thong swimsuits by famed photographer Helmut Lang.
In 1979, Gernreich patented the design for the first thong.
The 1980s: The thong goes mainstream, thanks to Cher (of course)
By the early 1980s, one lingerie outlet was taking advantage of women finally understanding that thongs could rid them of the dreaded visible panty line, or "VPL," which haunted women who loved to wear super tight, super sheer clothing. Frederick's of Hollywood, which was launched by underwear pioneer Frederick Mellinger (the same man who invented the push-up bra), started selling things called "scanty panties," which were effectively thongs. (The company also sold a ton of edible underwear, but that's another story.)
As the thong became popular in the drawers of some women in the '80s, it finally became a part of pop culture in the late '80s and early '90s, all thanks to Cher. In 1989, Cher was a thong fanatic, wearing a rather iconic one in her "If I Could Turn Back Time" music video and during performances on tour as well.
Why'd she pick the thong? Well, to show off her butt tattoo, of course.
The 1990s: Monica Lewinsky and an iconic song elevate the thong's popularity
In 1998, quite unpredictably, Monica Lewinsky landed herself in the middle of the thong's rise. In the Starr Report, which detailed President Bill Clinton's affair with the young staffer, it was reported: "In the course of flirting with [Bill Clinton] she raised her jacket in the back and showed him the straps of her thong underwear."
Just like that, millions of Americans probably thought "thong underwear?" in unison. And as if to answer that thought, rapper Sisqo kindly offered them the 1999 hit single "Thong Song," which detailed his obsession with and admiration of the underwear style in rather vivid detail. The song would eventually rise to No. 3 on the Billboard Hot 100, further driving the thong's ascension to pop culture dominance.
"Let me see that thong," he sang, while melodiously calling out to women like Jennifer Lopez. That same year, thongs were the fastest-growing underwear style.
2000s: Low-rise jeans create a perfect stage for the thong
You can blame Lewinksy or Sisqo, but by the early 2000s, the thong faced a critical turning point. Low-rise jeans became popular again, and, with thongs constructed the way they were, were they to hide or show off like a beauty queen on the top of showboat?
If you lived through this era, you know the answer to that question. On women like Britney Spears, Paris Hilton and Gwen Stefani, the thong strap was an accessory as ordinary as a belt. It was chic to let it peek out over a pair of jeans — or even through a dress, on red carpets and in extremely iconic music videos.
2010s: We have a conflicted relationship with the thong, but it still lives
Over the past 10 years or so, we've had a rocky time with the thong. Every year or so, outlets like the New York Times and Cosmopolitan run pieces like "The thong is dead!" (2010), "Young Women Say No To Thongs" (2015) or "Good riddance to the thong!" (2016).
The thong died, according to these outlets, so things like full coverage underwear could thrive. And sales numbers reflected that, as there was a 7% dip in thong sales from 2014 to 2015.
Indeed, so-called "granny panties" became a major part of fashion. However, the thong is still very much alive, as seen on women like Rihanna at the 2014 CFDA Awards, Nicki Minaj in her video for "Anaconda" and very recently back in swimsuit form on models Bella Hadid, Kendall Jenner and Emily Ratajkowski.
So perhaps it's not that the thong or granny panties are dead, but that the two can now live together in harmony — not only in fashion, but in the drawers of the masses.
That sounds just fine by us.