3 'Game of Thrones' spoilers revealed in the latest teaser from Spain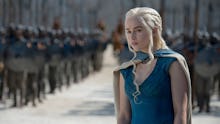 New Game of Thrones footage reveals that Daenerys' forces will indeed go head-to-head with the Lannister army in season seven. On Monday, HBO Spain set up a temporary exhibit in Madrid to give GoT fans a sneak peek into the season's coming attractions. In addition to sharing some goofy behind-the-scenes shots, the sneak peek touched on a few fan suspicions.
The battle of Casterly Rock might be an ambush
While some theorized that Daenerys would sneak her Dothraki soldiers into Casterly Rock using Tyrion's extensive knowledge of the castle's sewer system, the recent sneak peek suggests that the Lannister army is just a tiny bit prepared for the attack.
One behind-the-scenes shot shows Lannister guards knocking down a Dothraki soldier who attempts to breach the castle's parapets. However, the battle does seem to go in Daenerys' favor: The sneak peek seems to show Grey Worm inside the castle, suggesting that he may have, in fact, snuck in through a secret passage as his fellow soldiers stormed the castle gates.
Gendry is definitely done rowing
When Game of Thrones last checked in with Robert Baratheon's bastard son, Gendry, he was rowing away from Dragonstone to avoid execution. Recent shots of Joe Dempsie filming in Spain suggests that the technical heir to the throne will make a comeback in season seven. The sneak peek seems to confirm this, with a Gendry look-alike fending off attackers with a hammer.
There is a new maester in town
Fans already know that Jim Broadbent is joining season seven as an archmaester who mentors Sam Tarly at the Citadel. A brief check-in at the Citadel shows a robed man at the Citadel who doesn't particularly look like Sam. Coincidence? Probably not.
Check out the sneak peek below to see for yourself.
Mic has ongoing coverage of Game of Thrones. Check out our main GoT hub here.