Ryan O'Callaghan, former NFL lineman, comes out as gay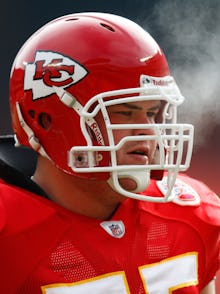 Ryan O'Callaghan, a former NFL offensive tackle for the New England Patriots and Kansas City Chiefs, came out as gay in a powerful profile in Outsports, published Tuesday.
O'Callaghan, who said he used football as his "beard," revealed to the publication that he had abused painkillers and planned his suicide after his career was ended by injury in 2011.
"I just didn't worry about being gay when I took the Vicodin. I just didn't worry," O'Callaghan said. "I started spending all my money to put myself in a position where it would be impossible, or at least extremely difficult, to back out of killing myself."
O'Callaghan, 33, was a standout right tackle at University of California before being selected by the Patriots in the fifth round of the 2006 NFL draft. He played in 26 games for New England in 2006 and 2007, but missed the entire 2008 season with a shoulder injury. After the Pats waived him in 2009, he was claimed by the Chiefs and played 25 games with Kansas City in 2009 and 2010.
But during training camp in 2011, O'Callaghan was placed on injured reserve due to his 2008 shoulder injury and never took the field again, according to Outsports.
That's when O'Callaghan — who reportedly grew up in a conservative environment where "the people in his world would never accept him being gay, and he could never truly accept it either" — apparently began abusing pills, distancing himself from friends and pouring tens of thousands of dollars into a small cabin near Kansas City where he planned to kill himself.
He had guns at the cabin and a suicide note prepared.
While attending physical therapy on the off-chance he could work his way back onto the gridiron, the Chiefs' head trainer, David Price, set O'Callaghan up with a counselor who'd worked with other players on drug abuse issues.
The counselor, Susan Wilson, encouraged him to open up and helped him come out to the people in his life — including Green Bay Packers' star Aaron Rodgers, whom he played with at California; Chiefs' punter Dustin Colquitt; and former Patriots Vice President of Player Personnel Scott Pioli, who told the lineman that he had counseled other gay NFL players. All three offered support to O'Callaghan, he said.
Defensive lineman Michael Sam announced in 2014 that he is gay, and that same year became the NFL's first out gay player when he signed with the Dallas Cowboys. Others, including former cornerback Wade Davis, came out after retiring from the league.
Though O'Callaghan told Outsports he could not recall hearing a gay slur during his time in the NFL, he felt pressured by other players' frequent sexual conversations about women.
"There is so much talk about women in the locker room, even in the NFL," O'Callaghan said. "I'd just turn around and ignore it. I figured I couldn't even talk about it well, like they would see through me if I did."
O'Callaghan was inducted into the Shasta County, California, Sports Hall of Fame in 2014 and brought his then-boyfriend to the ceremony. No outlets evidently reported on it at the time.
The ex-NFLer, who now has a permanent disability from injuries he suffered in the league, shared his story with Outsports during a trip to Los Angeles for his first-ever Pride celebration.
"Being gay wasn't just a small detail in my life, it consumed it. It's all I would think about," O'Callaghan said. "But now that I have come out it rarely crosses my mind. Yeah I'd go about my daily life in football, but thinking about hiding it and hoping no one finds out and being ready for any situation was exhausting."
"It's not always easy being honest, but I can tell you it's much easier and more enjoyable being yourself and not living a lie," he added.