How to complete the "Love Is in the Air" quest in 'Sims Freeplay': Guide, tips and tricks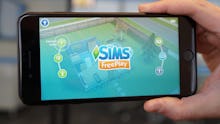 The Sims series springs eternal, especially with the new Fitness Stuff Pack released on June 20 for the Sims 4. If you're taking a break from vampires and cheat codes, you might be completing quests in the mobile version of the game, Sims Freeplay. Quests in Freeplay can be a little involved, but are essential for unlocking new items and new activities.
If you're having trouble with "Love Is in the Air," we're here to help by walking you through the steps it requires.
Sims Freeplay guide: How to unlock "Love Is in the Air"
According to The Girl Who Games blog, unlocking "Love Is in the Air" will require you to finish the preceding quests, according to an FAQ at the bottom of the page. You'll also need to be level seven before the quest becomes available as well. Luckily, there are only two quests prior to "Love Is in the Air" — the money-based quests "Bread Winner" and "Money Grows on Trees?" Once you've completed those two quests, you should unlock "Love Is in the Air."
Sims Freeplay guide: how to complete "Love Is in the Air"
Once you've unlocked the quest, you can start working towards completing it. According to the wiki, the quest has 21 discrete steps, so prepare to micromanage a little bit. The steps and how long they take are as follows:
1. Perform "quick rinse," six seconds
Once you've done that, you should have completed "Love Is in the Air," which will grant you the ability to use the action "woo-hoo" — the Sims' deeply embarrassing euphemism for allowing your Sims to have recreational sex. Complete the quest within two days, and you'll also unlock the "wedding bundle" as well. So get cracking — those wedding bells aren't going to ring themselves.
More gaming news and updates
Check out the latest from Mic, like this essay about the sinister, subtle evils lurking in rural America that Far Cry 5 shouldn't ignore. Also, be sure to read our review of Tekken 7, an article about D.Va's influence on one Overwatch player's ideas about femininity and an analysis of gaming's racist habit of darkening villains' skin tones.