'WWE 2K18' Nintendo Switch Release Date Rumors: Breaking down the latest information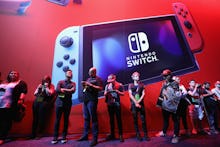 On Monday, the cover athlete — Seth Rollins — and release date for WWE 2K18 were revealed for the PlayStation 4 and Xbox One versions, but there was no official word on whether or not the game will come to the Nintendo Switch.
WWE fans who own a Switch are hoping the game will be available for Nintendo's latest gaming console. In fact, one Redditor went digging for information on a Switch version of WWE 2K18 and found something particularly interesting.
WWE 2K18 Nintendo Switch: New rumors surface online
Reddit user Oconnomiyaki found links for a Switch version on two gaming retailers' websites. One link, from EB Games, has since been taken down — but another on Mighty Ape is still live as of Tuesday afternoon.
In fact, Oconnomiyaki claimed he reached out to Mighty Ape via live chat and they confirmed WWE 2K18 would indeed be released for the Switch. Granted, Switch owners shouldn't get their hopes up just yet.
"WWE 2K18 is announced as in development for PlayStation 4 and Xbox One," developer 2K said in a statement obtained by Mic. "2K does not comment on rumors or speculation."
Still, there are a few reasons to believe that WWE 2K18 could be headed to the Nintendo Switch. Let's get into it.
WWE 2K18 Nintendo Switch: John Cena tie-in?
John Cena recently participated in a campaign for the Switch. It had no direct relation to WWE 2K18, but Cena has long been one of the series' biggest spokesmen and ambassadors.
NBA 2K18 is also due to release for the Switch, so there's an obvious relationship between Nintendo and 2K's licensed brands. 
WWE 2K18 Nintendo Switch: A familiar pattern
Lastly, a Switch version could be on the way for sure, but for whatever reason, 2K or Nintendo may not be ready to confirm. The PC version of the franchise encounters similar conditions each year.
This could be totally unrelated, and there may be no plans to release the game for the Switch. However, it may be that a Switch version is planned, but the parameters are still being finalized — thus 2K is not ready to make an announcement.
The PC release date traditionally comes a bit later than the console versions, so perhaps a Switch version's release will function similarly.
WWE 2K18 would be an excellent addition to the Switch library. The console is sports-starved at this point. A major franchise like WWE 2K could help to sell a few more Switch units.
No other console offers the possibility of playing WWE 2K on the go. Even if the Switch version were scaled back, the way FIFA will be, that portability would be an alluring perk.
More sports gaming news and updates
Love sports games? Check out more content from Mic, including tips for leveling up your MLB The Show RTTS player, the new story mode in Madden 18, a wish for the WWE 2K18 release and a detailed sports video game release calendar.