Prodigy of Mobb Deep dead at 42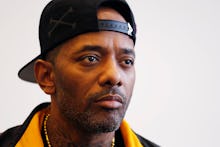 Albert Johnson, better known as the rapper Prodigy of the legendary hip-hop duo Mobb Deep, has passed away at 42 years old, according to reports from TMZ and XXL. 
He was found unconscious Tuesday morning and died later in the day. As of this writing his cause of death is unknown, though the rapper had been recently hospitalized for complications caused by sickle cell anemia while in Las Vegas for a Mobb Deep performance. The group's publicist sent the following statement to XXL, confirming the rappers death:
"It is with extreme sadness and disbelief that we confirm the death of our dear friend Albert Johnson, better known to millions of fans as Prodigy of legendary NY rap duo Mobb Deep. Prodigy was hospitalized a few days ago in Vegas after a Mobb Deep performance for complications caused by a sickle cell anemia crisis. As most of his fans know, Prodigy battled the disease since birth. The exact causes of death have yet to be determined. We would like to thank everyone for respecting the family's privacy at this time."
Alongside rapper and producer Havoc, Prodigy founded Mobb Deep in Queensbridge Houses in New York City. They released their debut album, Juvenile Hell, in 1993 and went on to become one of the most iconic New York rap groups of the '90s, propelled in large part by the strength of their sophomore album, 1995's The Infamous. That record, which was largely self-produced by Mobb Deep, remains a cornerstone of gritty, lyrically driven hip-hop. 
The group released a total of eight studio albums together, with their most recent being 2014's The Infamous Mobb Deep. Prodigy also put out a series of LPs under his own name, the most recent of which was The Hegelian Dialectic, released in January.
Mic has ongoing music coverage. Follow our main music hub here.