Uber now lets you tip your driver. So how much should you tip?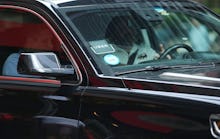 For a while, Uber has resisted adding tipping to its app. Its competitors — Lyft, Juno, Gett and traditional taxis — all have tipping functions, and Uber drivers have urged the company to add an in-app option for riders.
On Tuesday, the ride-sharing giant — currently in a whirlwind of bad press and, likely, desperate for a win — finally announced that tipping is coming.
The company will make tipping available to drivers in Minneapolis, Seattle and Houston on June 20 and expand to all U.S. drivers by the end of July.
In an email, IDG founder and Machinists Union official Jim Conigliaro Jr. said, "Today's tipping announcement is an important win for drivers and proves that thousands of drivers coming together with one voice can make big changes."
"Cuts to driver pay across the ride-hail industry have made tipping income more important than ever. We were proud to lead the way on this fight on behalf of drivers in New York City and across the nation. This is an important first step toward a more fair ride-hail industry."
How much should you tip your Uber driver?
Riders can select from tip amounts that pop up on the app once the trip is completed or add in a custom amount. They can tip the drivers for up to 30 days after the ride has ended.
How much is a fair tip? According to the latest edition of Emily Post's Etiquette, "a tip to a taxi driver is generally about 15 to 20% of the fare, with a minimum of $1; round up any small amounts of change." Tip more for "a driver who helps with your luggage or packages," the book suggests.
Will tipping affect your user rating?
Uber notes on the tipping page that drivers won't be able to see a name and photo alongside tipping amounts to maintain user privacy. Drivers can't see how much a passenger tipped before giving them a rating.
Why did Uber add tipping now?
"Make no mistake, Uber only did this because members of the Independent Drivers Guild pressured regulators," Conigliaro said. "We are thankful to the many New York City leaders, labor unions and community organizations that stood with drivers and advocated for this critical measure."
Tips help, but remember that the real problem is unlivable wages for drivers
While an in-app tipping option is certainly a net gain for Uber drivers, it doesn't negate the fact that many Uber drivers make unlivable wages. According to data from online lender Earnest, Uber drivers average of $364 a month, and 45% of them make less than $100 a month. No wonder many of them are toggling between Uber, Lyft, Juno and a number of different ride-sharing apps.
Perhaps the long-term solution for treating drivers better isn't just putting the onus on riders to volunteer a tip, but for a company valued at $69 billion (though to be fair, it's allegedly operating with huge losses) to pay its drivers a fair wage.
Until then, though, add 20%.