The best scene of 'Rough Night' involves an adult diaper and male objectification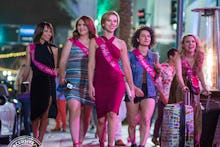 You may have heard that Rough Night is the first R-rated studio comedy helmed by a woman in nearly 20 years. Before its premiere, some hoped Rough Night would also be a shining achievement for film, and namely for women in film — but that turned out to be less true. Rough Night is more of a weightless, twisty confection — like a Taco Bell Cinnamon Twist — and its pleasures don't aim to challenge. And that's great. That means that women like Rough Night's director, Lucia Aniello, are finally staking claim to the "middle section of the bell curve" — or at least that's how Ilana Glazer, who stars in the film, might put it. In a speech at the recent "Girls Write Now" Awards, Glazer waxed poetic with some words of encouragement for female artists:
Men and boys get to occupy that big, fat middle section of the bell curve, of mediocre TV shows, of 'meh' movies, of books that are just … fine. They get to profit off this huge chunk of the industry, so why can't you occupy some of that space before your work is absolutely prim and perfect?
Some of Rough Night's comedy lies in its division of labor: The raunchy, sexual jokes go to the female stars, while the chaste, romantic beats go to the boys on the sidelines. This is most apparent when the film cuts away from the women's debauchery to check in with the B-story men, led by Peter (co-screenwriter Paul W. Downs), as they politely sip wine at a bachelor party-cum-private tasting. Coincidentally, this juxtaposition has also become a calling card for the film: Some writers believed Rough Night could be the next Bridesmaids.
While this gender reversal doesn't produce anything particularly subversive, it does allow for one memorable scene involving male objectification. In an extended sequence at a gas station, Peter attempts to scrounge up gas money after his ATM card is declined due to "suspicious activity" — i.e., his sudden decision to race to Miami after his fiancée mentioned over the phone that she hired a stripper. Wearing nothing but a form-fitting T-shirt and an adult diaper (it's a whole thing; don't ask), Peter must endure humiliating oral sex requests from closeted male motorists before he can get his money and be on his way. Through it all, the camera invites viewers to survey Downs' fit, half-nude form as the motorists regard him as a sex object. It's a typical example of a director observing an ingenue with a sexual gaze — but this time, the director is female and the ingenue is male. It's a subtle power shift and ultimately inconsequential, but it's enough to elevate the film ever so slightly. The female gaze is so rarely honored in Hollywood, and yet here it is in a mainstream studio comedy.
Downs and Aniello, who are partners in real life, previously worked together on a web series called The Real Housewives of South Boston. In the series, Aniello played a Red Sox fan who "took a Ramirez homer to the uterus," while Downs, again, played eye candy. And although initial reports had the couple penning the upcoming female-led 21 Jump Street, it turns out that won't be the case. However, Downs and Aniello will continue to create opportunities for male objectification in their roles as writers on season four of Broad City.
Mic has ongoing movie coverage. Check out our main movie hub here.