The EPA's embattled Board of Scientific Counselors is important. Here's why.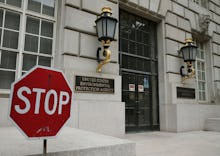 Scott Pruitt's Environmental Protection Agency has canceled the 2017 meetings of the Board of Scientific Counselors and will effectively dismiss current advisors whose terms are up for renewal this year, according to an email sent on Monday to BOSC members obtained by Mic.
The "schedule and membership" changes announced on Monday evening seem to represent a major shakeup at the key scientific review board, which advises the EPA's Office of Research and Development on the credibility of the agency's science, and is seen by BOSC members reached by Mic as a political move by the Trump administration that will "undermine" the committee's objectivity.
The move, according to Deborah Swackhamer, chair of the BOSC executive committee, will decimate the board and leave it impotent for "six months to a year."
Here's what's happening to the EPA's Board of Scientific Counselors — and why it's important.
"Wipe the slate clean"
BOSC has been stuck in political purgatory since at least May, when Pruitt initiated an overhaul of the review board in what a spokesperson described as a "clean break with the last administration's approach."
Several BOSC members — whose three year terms are typically renewed due to lengthy assignments — were not renewed that month, and Carlos Martín and Peter Meyer, advisers to the Sustainable and Healthy Communities subcommittee, resigned in protest after the co-chairs of their sub-committee were effectively removed.
"We cannot in good conscience be complicit in our co-chairs' removal, or in the watering down of credible science," the two wrote in a joint letter of resignation.
J.P. Freire, Pruitt's spokesperson, said at the time that the agency would consider replacing the academic scientists that make up most of the board with representatives from the industry it regulates, as well as "universities that aren't typically represented and issues that aren't typically represented."
In not renewing the current BOSC members, the board will go from 70 members to just 11, Swackhamer said in an email interview.
"This latest action is consistent with the actions and statements from EPA administration that they wish to wipe the slate clean, appoint their own advisors, who will be representative of industry," Swackhamer wrote.
Trump administration "not willing to listen to science"
Why is BOSC important?
The board is tasked with reviewing and evaluating the EPA's science, and its advice is used by the agency to create regulations on air pollution, clean water and other environmental issues.
In not renewing board members, according to Swackhamer, the administration has made it "more difficult for EPA to meet its mission — to protect public health and the environment."
"External EPA advice is part of the successful formula of robust science being used at EP," Swackhamer said. "Without it, EPA becomes less transparent, and less accountable."
According to Gretchen Goldman, research director at the Union of Concerned Scientists' Center for Science and Democracy, that can have a major impact on the agency's ability to respond to threats facing all Americans.
"I would worry about EPA's ability to be ready for emerging threats to public health and the environment," Goldman said in a phone interview. BOSC "can shape that research and reveal the importance of those issues."
But, Goldman said, the shakeup indicates that the Trump administration is "not willing to listen to science" and is instead treating committee members like political appointees rather than independent researchers.
"It appears they are looking to get like-minded people onto the committee," Goldman said. "It seems they're looking to choose committee members based on a political litmus test."
Amy Graham, a spokesperson for the EPA, said in an email statement that the agency "has encouraged those with expiring terms to reapply." But the deadline to reapply for membership is June 30, and Graham said that the agency would take a new "inclusive approach" to filling board seats — a call-back to Freire's May statement suggesting Pruitt would consider filling the open board seats with industry officials.
"It completely misunderstands how advisory committees work," Goldman said. "It's not about representatives of different stakeholders. They're designed to get the best independent science advice, period. It's about the best science."
Committee members are "selected for their merits and for the diversity of scientific fields," Goldman added. "That process already is inclusive and open to anyone who has needed scientific expertise, including people from industry."
"Many months" before BOSC functioning again
In the internal email informing BOSC members of the shakeup, ORD acting acting assistant administrator Robert Kavlock told members the agency is "hopeful that an updated BOSC Executive Committee and the five subcommittees can resume their work in 2018."
Swackhamer said she estimated it will be "many months" — perhaps six months to a year — before BOSC functions again.
"It is a crucial time for BOSC to provide advise to ORD, as they are being deeply challenged by the prospect of severe proposed budget cuts, and would begin the planning for their next strategic plan in 2018," Swackhamer said. "It is a lost opportunity at a pivotal time."
Trump, who — like Pruitt — is a climate change doubter, has proposed dramatic cuts to the EPA and earlier this month pulled out of the Paris climate agreement in a major reversal of former President Barack Obama's environmental policy. Trump's environmental and scientific policies have been the subject of two massive protests in April — the March for Science and the People's Climate March.
Meyer, an economist who resigned in protest from one of BOSC's five subcommittees in May, said in a phone interview on Monday that the shakeup shows the administration is "continuing to purge science and undermine objectivity."
"Whatever accumulated knowledge about the EPA and experience in advising the EPA that the BOSC has built up will be lost," Meyer said. "[It indicates] they want an advisory committee that contains members from the regulated industries.
"Draw your own conclusions."
Correction: June 21, 2017