Trump has spent $133,000 of taxpayer money on White House furnishings since January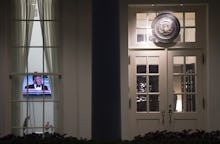 Five months ago this week, Donald Trump became the United States' 45th president.
Since then, not everything's gone exactly according to Trump's plans: A replacement for Obamacare is mired in a political battle. The courts are blocking his proposed travel ban. The United States still operates within the confines of NAFTA.
Team Trump has not yet made good on all its campaign promises, but it has apparently surpassed the prior administration in one area at least: furniture shopping.
From Inauguration Day through the end of May, Trump's office spent more than twice as much on White House furniture than predecessor Barack Obama did during the same time frame. The analysis was shared with Mic by the progressive American Bridge PAC, which describes itself as a group "committed to holding Republicans accountable for their words and actions."
Federal procurement records for the Executive Office of the President show that through May 31, Trump spent $133,053.95 on office furnishings versus the $51,204.25 clocked by Obama's office during his first five months on the job.
Trump's spending shakes out to roughly 2.6 times what Obama spent.
Notably, Trump's office ordered a custom conference table from the Kittinger Company, Inc. that carried a price tag of nearly $13,000.
Per its website, Kittinger has "built custom furnishings for many of the finest offices in this county and throughout the world, including many government offices at both ends of Pennsylvania Avenue for more than two centuries."
Trump isn't the first president to order a Kittinger conference table. The company's site gives a bit of the history:
President Nixon, after visiting Europe in 1969, realized the White House looked quite shabby compared to similar homes of European heads of state. President Nixon commissioned Kittinger Furniture in November of 1969 to refurbish the West Wing. The first area was the Cabinet Room. A 22.5 foot long table and 24 chairs, one chair being 2.5 inches higher than the rest for the president. 
One difference: "President Nixon paid for the table himself."
The White House press office didn't immediately respond to a request for comment.
To be fair, Obama spent more than a couple of bucks in the first June of his presidency, per the American Bridge tally — nearly $70,000, in fact. Trump's June purchases, per the PAC's research, come to only about $17,000, although there are a few shopping days left in the month.
A few hundred thousand dollars may be a fortune to the average American considering that the 2015 median household income was $56,516. But compared to, say, the federal deficit of $19 trillion, it wouldn't even be a decent gift from the Tooth Fairy.
Still, Trump has a long record of bashing Obama for his choices and performance as president and then turning around and not only doing those same things, but doing them bigger.
Trump famously griped that Obama spent too much time golfing, for example. But in the first 100 days of Trump's presidency, he reportedly golfed 19 times, while Obama hit the links only once.
And before taking over the Oval Office, Trump slammed Obama for blowing way too much taxpayer money on travel — but CNN estimated in April that Trump might end up spending more on trips in his first year alone than Obama spent in two full terms.
Historically, each first family has some (but not total) flexibility in making the White House their own. With first lady Melania Trump and son Barron having made the move to Washington just this month, more changes are surely ahead.
How the Trump family's ultimate vision of the White House pans out — and what it costs the public compared to what the Obamas spent — remains to be seen.