These are the top 10 places Americans travel for food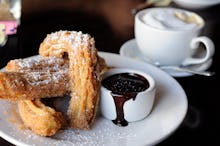 People travel for many reasons: to see the world, experience new cultures, get out of their comfort zone, have an adventure, strengthen a current relationship or meet new people — to name a few. But according to a new study from OpenTable, a majority of Americans travel for food.
More than 3,400 OpenTable users completed the survey online this spring; 66% of Americans surveyed said they would select a travel destination based on its cuisine and culinary offerings.
While it appears that most Americans let their taste buds dictate their travels, the survey noted that people from other countries are even more likely to book a flight with cuisine in mind. For example: A whopping 84% of Australians and Canadians reported that they'd select a destination based on food.
The most popular dining destinations around the globe
What cities are Americans fantasizing about when it comes to cuisine? The OpenTable survey revealed the top 10 "dream dining destinations." Ranked from least to most popular, this list — which includes romantic getaways like Paris and party cities like New Orleans — are renowned for their cuisine.
10. Chicago
Known for its for deep-dish pizzas, hot dogs with mustard and all the barbecue your body can handle, the Windy City does not disappoint when it comes to food.
9. Madrid
Tapas and wine reign supreme in Spain's capital city. There are plenty of dessert options for those with a sweet tooth, too. Chocolate-dunked churros? Yes, please.
8. San Francisco
If you leave SF without getting a burrito or tacos, you're doing it wrong. Don't sleep on the Michelin-starred restaurants or delectable ice cream shops, either.
7. Bangkok
Crispy chicken wings, pad thai, seafood, curries and more await you in Bangkok, a city known for its thriving street life. Go on a personal street food tour or seek out the city's fine dining at night.
6. Tokyo
Ramen? Sushi? Tempura? Udon? Come hungry if you're traveling to Tokyo, because you'll want to try it all.
5. New York City
From dollar dumplings to Michelin-starred restaurants, NYC has options for any and all budgets. Boroughs like Queens and Brooklyn are hubs of delicious cuisine, too — so don't be afraid to venture away from Manhattan.
4. New Orleans
Beignets are just the beginning when it comes to food in the Big Easy. Gumbo, po' boys, bananas foster and plenty of Cajun specialities are bound to please — and washing down your meals with a Sazerac is an even better way to make the most of a food-driven NOLA vacation.
3. Barcelona
Paella might be Barcelona's most renowned dish, but there are plenty of other mouthwatering options — including Serrano ham and seafood — to whet any traveler's appetite. Head to grocery market La Boqueria to see delicious foods on display.
2. Florence
If watching Aziz Ansari learn how to make pasta in the second season of Masters of None sparked cravings for authentic Italian, it might be time to book a flight to Florence. From caffee lattè to gelato to fettuccine, the city has a slew of enticing offerings that will keep your stomach satiated from breakfast through dessert.
1. Paris
The City of Lights is best enjoyed with a baguette in one hand and a bottle of wine in the other, right? Or you could book a room at the Plaza Athenee and nibble on croissants while gazing at the Eiffel Tower.