Michael Brown's parents reach settlement with Ferguson government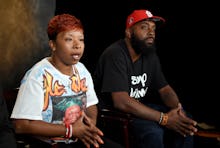 After losing 18-year-old Michael Brown when he was gunned down by Ferguson, Missouri, police officer Darren Wilson in August 2014, Michael Brown's family has reached a settlement with the city, according to the Associated Press.
According to the New York Daily News, a Missouri federal judge approved the settlement, which did not disclose the dollar amount, on Tuesday. The family filed the suit. It accused Wilson and Ferguson police chief Thomas Jackson of wrongful death, excessive force and tampering with evidence.
The original suit sought $75,000 from the city. Though the final dollar amount was undisclosed, it can be no larger than $3 million, the city's upper threshold on its insurance, according to STLToday.
According to the Associated Press, the federal judge called the settlement "fair and reasonable compensation for this wrongful death claim" and said the money is to be split between Michael Brown Sr. and Brown's mother, Lezley McSpadden. The judge wrote that this settlement will be a closed record as to not "jeopardize the safety of individuals involved in this matter," but did not elaborate why.
Brown's death in 2014 spurred days of unrest and protests in Ferguson's streets and was seen as a watershed moment in the burgeoning Black Lives Matter movement.
Since Brown's death, his mother, Lezley McSpadden has become a spokesperson for her son, as well as other victims of police brutality. She released a book, Tell the Truth & Shame the Devil: The Life, Legacy, and Love of My Son Michael Brown, in May 2016. She also appeared at the Democratic National Convention with other "Mothers of the Movement" in July to highlight the ongoing police brutality epidemic and throw her support behind Democratic presidential candidate Hillary Clinton.