Stark report on opioid epidemic shows what's at stake in Trump's budget cuts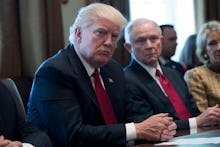 Between 2005 and 2014, the number of people hospitalized or arriving at emergency medical departments has risen by huge margins, per a recent report by the Agency for Healthcare Research and Quality. The trend is likely to worsen — and it's happening as the Trump administration weighs massive cuts to the federal agencies responsible for dealing with the crisis.
According to the report, opioid-related in-patient stays rose by 64%, while emergency department visits rose by slightly over 99%. As the Washington Post noted, "their trajectory likely will keep climbing if the epidemic continues unabated."
One of the epicenters of the epidemic is Maryland where another recent state report concluded deaths from opioids had nearly quadrupled since 2010. Deaths from fentanyl, a synthetic opioid much more potent than morphine or painkillers sometimes used on its own or to spike other drugs like heroin, increased by 3,800%.
Despite campaigning on a platform to end the opioid crisis, Trump has instead proposed cutting the budget of the Office of National Drug Control and Policy by 95%, which would effectively end any significant efforts by the agency to rein it in.
"These drastic proposed cuts are frankly heartbreaking, and if carried out, would cause us to lose many good people who contribute greatly to ONDCP's mission and core activities," ONDCP acting Director Richard Baum told staff.
A recent Associated Press report on the crisis suggested Trump and the Republican attempt to repeal and replace the Affordable Care Act could have a disastrous effect on the availability of medical resources for people struggling with opioid abuse. In particular, attempts to roll back Medicaid expansion could have a dire impact on opioid treatment.
"Medicaid expansion accounted for 61% of total Medicaid spending on substance abuse treatment in Kentucky, 47% in West Virginia, 56% in Michigan, 59% in Maryland and 31% in Rhode Island," the AP wrote. "In Ohio, the expansion accounted for 43% of Medicaid spending in 2016 on behavioral health, a category that includes mental health and substance abuse."
The potential impact is especially stark considering Trump campaigned heavily and won much of his support in states with the worst opioid abuse problems. According to CNN, the president won 18 of the 25 states with the "highest number of drug overdoses in 2015." What his White House has offered instead of a solution is harsher and more punitive enforcement of drug laws, a disproven approach that has rapidly lost support among the public in recent years.