Travis Kalanick steps down as CEO of Uber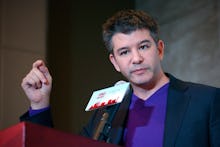 Uber founder Travis Kalanick has resigned as the company's CEO, reportedly amid pressure from investors, the New York Times reported Wednesday, citing information from sources with knowledge of the situation.
Kalanick's decision to step down reportedly came at the end of a tumultuous day, the Times reported. On Tuesday, five of Uber's investors submitted a letter calling for Kalanick's immediate resignation. After "long discussions" with investors, Kalanick agreed to resign, according to the Times.
Kalanick, 40, helped to start the massively popular ride-sharing app in 2009 and has become the face of the company in its rise to international prominence.
But the past few months have been marred by controversy. Under Kalanick's leadership, women employees of Uber have accused the company of rampant sexism and a culture that was permissive of sexual harassment
Uber has also been accused of failing to investigate assaults on women drivers — and one top executive reportedly tried to disprove a passenger's claim that she had been raped by her Uber driver by obtaining her medical records.
A video of Kalanick heatedly arguing with an Uber driver as he sat in his car went viral in February, just a month after #DeleteUber trended on Twitter in response to its increased surge pricing during a New York taxi union strike protesting President Donald Trump's travel ban. After the boycott, Kalanick stepped down from Trump's business advisory council.
Kalanick had announced earlier in June that he would be taking a leave of absence from the company following the months of controversy as well the death of his mother in a boating accident in May.
But it seems that a leave wasn't enough for investors. In a statement on his decision to resign, Kalanick said "I love Uber more than anything in the world and at this difficult moment in my personal life I have accepted the investors request to step aside so that Uber can go back to building rather than be distracted with another fight," the Times reported on Wednesday.