Donald Trump takes victory lap after Republican Karen Handel wins Georgia special election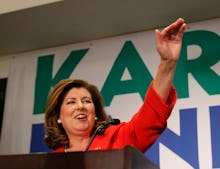 President Donald Trump spiked the ball Tuesday night after Republican Karen Handel defeated Democrat Jon Ossoff in a high stakes special election in Georgia's 6th District, knocking Democrats not only for losing that race, but four other special elections over the past few months.
"Well, the Special Elections are over and those that want to MAKE AMERICA GREAT AGAIN are 5 and O!" Trump tweeted late Tuesday night. "All the Fake News, all the money spent = 0."
Trump went on to attack Democrats' message in a Wednesday morning tweet, saying they would "do much better as a party if they got together with Republicans on Healthcare, Tax Cuts, Security.
"Obstruction doesn't work!" Trump added.
Handel's win came as a relief to Republicans, who worried a loss in a historically Republican seat could lead to panic in their party ahead of the 2018 midterm elections.
But Trump also seemed to take the victory as a sign that the status quo in Washington, D.C., is a winning strategy for his party ahead of those same midterm elections next November.
Trump currently has a 40% approval rating, according to the RealClearPolitics average.