Tropical Storm Cindy heads for the Gulf Coast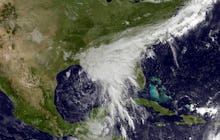 Seventeen million people are under a tropical storm warning as Tropical Storm Cindy nears the United States Gulf Coast, CNN reported on Wednesday. Tropical Storm Cindy is the second tropical storm to come out of the Atlantic since the official start of hurricane season on June 1.
The area currently under tropical storm warning stretches from San Luis Pass, Texas to Alabama's Florida border, according to CNN meteorologist Michael Guy.
Tropical Storm Cindy is expected to make landfall sometime around Thursday morning, bringing heavy rain, winds up of to 50 mph and potential floods to areas along the Gulf Coast.
The 2017 hurricane season has been predicted to have an above-average number of hurricanes, as CNN reported in June — but President Donald Trump has not yet named a new leader for the National Oceanic and Atmospheric Administration, the agency tasked with predicting and preparing for storms, raising concerns among some experts that the U.S. may be less prepared to deal with major storms than in years past.
CNN reports that downpours have already started in some places as Cindy nears the coast, and officials in Alabama, Louisiana, Mississippi and Texas are taking steps to prepare for the possibility of flooding.
Alabama Governor Key Ivey has declared a state of emergency, CNN reported, and officials in Louisiana said government buildings all across the state will close on Wednesday.
Voluntary evacuations have been ordered in at least one area of coastal Texas, and the city of Biloxi, Mississippi, has declared a state of emergency due to its risk of flooding.
"It's kind of like a slow-motion disaster for us now," Greg Flynn of the Mississippi Emergency Management Service said, according to CNN. "It's not wind, it's rain we're concerned about."