If you care about reproductive rights, pay attention to what is happening in Iowa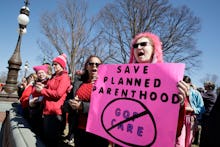 Planned Parenthood of the Heartland is poised to shutter four of its Iowa centers, dropping the state's number of clinics from 12 to eight effective June 30 and disrupting care for some 15,000 patients.
The closures come thanks to legislation Gov. Terry Branstad signed into law in May, with which Iowa declined the roughly $3 million annual in federal Medicaid money it had previously received for its family planning program. The state decided to forgo these dollars on the grounds it did not want to funnel taxpayer money into abortion services, which might make sense if that money went toward abortion — but it almost never does. Instead, it pays for the types of treatment a person might seek at a gynecologist or a urologist, for people who might not be able to afford those visits otherwise.
The move is another version of the "defund Planned Parenthood" strategy that's become so common in Donald Trump's America. But however often we may see that headline, however routine it becomes, it's eminently worth our attention. What's happening in Iowa has already happened in Texas, to disastrous effect. And if congressional Republicans get their way in repealing the Affordable Care Act, we can expect those same disastrous effects to bleed out across the country.
According to the Des Moines Register, the decision to decline federal Medicaid money eliminates roughly $2 million of Planned Parenthood's annual budget in Iowa. The organization will be closing its center in Sioux City, which — according to Planned Parenthood — serves 4,810 patients; the rural Keokuk center, which serves 1,871 people and existed as the sole provider for 92% of family planning patients from surrounding Lee County in 2015; the Burlington center, which serves 4,187 patients and, according to Planned Parenthood, offers crucial care to a medically underserved population; and the Quad City, Bettendorf center, which serves 3,829 patients.
Not all of those people relied on Iowa's federally funded family planning for reproductive care, but according to the Atlantic, nearly 4,000 of them did in 2016. Typically, that care — if Washington is helping to pay for it — isn't going to include abortion.
Planned Parenthood receives over $500 million from the federal government each year in the form of Medicaid reimbursements and Title X grants. Title X applies only to family planning: contraception, pelvic exams, HIV testing, pap smears, cancer screenings, all for impoverished and low-income patients seeking services at a publicly funded clinic. It never funds abortion, although Trump recently gave states the go-ahead to withhold Title X funds from family planning entities that offer abortion services anyway.
Medicaid, meanwhile, is only used to pay for abortion when an unwanted pregnancy results from rape or incest, and when a pregnancy threatens the life or health of the mother. These exceptions occur only very rarely: The 2010 fiscal year, for example, saw 331 Medicaid-funded abortions. For reference, the Centers for Disease Control and Prevention logged 765,651 abortions for 2010.
What Iowa — and what any state that deploys similar tactics to "defund Planned Parenthood" — is forgoing when it opts out of federal Medicaid is money that pays for basic reproductive care. The Guttmacher Institute estimates that, in 2015, publicly funded clinics in Iowa helped avert over 11,000 unintended pregnancies and 4,000 abortions. This is not surprising: easy access to contraception, especially long-acting contraception, keeps abortion rates low.
Unfortunately, shuttering a third of the state's Planned Parenthoods will only make contraception harder for some Iowans to get: In a press call on Tuesday, Planned Parenthood Federation of America president Cecile Richards said Keokuk patients, for example, will now have to drive an extra hour to see a family planning provider. She called the probable effect of closures "devastating," and she's right. For evidence, consider Texas.
In 2011, Texas initiated similar efforts to disqualify Planned Parenthood from its Medicaid-funded family planning program. It officially succeeded with the 2013 launch of its exclusively state-funded replacement, Healthy Texas Women.
Despite its promising name, the program does not seem to have done much to improve Texan women's health. In fact, it seems to have accomplished the opposite, because women — particularly low-income women and women of color — have had a much harder time securing basic reproductive health care.
The state's own numbers show that Texas Healthy Women serves 30,000 fewer clients than its Medicaid-funded predecessor had. According to one study, the birth rate rose among Medicaid patients who found themselves suddenly without access to injectable contraceptives. Post-Medicaid Texas charted the highest maternal mortality rate in the industrialized world: Another study demonstrated that the number of Texas women whose pregnancy-related complications proved fatal doubled between 2010 and 2014. The spike occurred right around the time the state began closing 82 of its family planning clinics, 31 of which were Planned Parenthoods.
Until May, Texas was the only state in the country that had successfully excluded Planned Parenthood from its state family planning program. The health care landscape in the Lone Star State offers a snapshot of what we can expect in Iowa — and, potentially, what we can expect nationwide if congressional Republicans succeed in ferrying their American Health Care Act from mystery-shrouded bill to law.
We don't know what, specifically, the Senate's version of the AHCA says, but we do know that the House version would deny abortion providers Medicaid reimbursements, effectively codifying Texas' state-level policy — or Iowa's — as national law. As Richards said in Tuesday's press call, passing the bill would bar patients from accessing Planned Parenthood as soon as Trump puts pen to paper.
Conveniently enough, Trump touches down in Cedar Rapids, Iowa, today, when he will fête Branstad as the governor transitions to his new role: U.S. ambassador to China. While Trump is in town, Richards is urging him to throw the brakes on the AHCA, formally inviting him to see "firsthand" what actually goes on at the Planned Parenthood Cedar Rapids health center. Her invitation ran today in the Cedar Rapids Gazette.
Although it seems reasonable to expect that Trump will see Planned Parenthood's ad, it does not seem reasonable to expect he'll heed it. And as Richards explained Tuesday, if he allows this particular state-level policy to become federal law, then we are all staring down the barrel of "a national health care disaster."