After the GA 6 special election here is one hard truth for Democrats and the faintest silver lining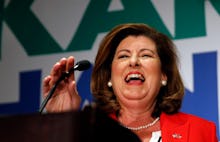 On Tuesday night, Democrat Jon Ossoff lost the special election for Georgia's 6th Congressional District to Republican Karen Handel, killing the last hope Democrats had to notch a major victory ahead of the 2018 midterm elections.
As soon as the results came in, journalists' inboxes were flooded with messages from Democratic and progressive groups noting that Democrats had managed to come within inches of victory in a district where a Republican won by 23 points in 2016.
But that narrative is self-serving at best. The truth is Democrats blew every chance they had to earn a big symbolic win ahead of 2018.
It is true that Georgia's 6th District was quite recently a safely Republican seat. But there is a simple reason for that: incumbency. Prior to this year, that seat had been held by now-Secretary of Health and Human Services Tom Price, who had been representing the district for over a decade. Polling and political science over the years shows that there are huge benefits to being the incumbent in an election. Even as Congress consistently earns terrible approval ratings from voters, those same voters tend to have a high opinion of their own incumbent representatives.
That's part of why Tom Price won re-election by 23 points in his district in the same year that Donald Trump narrowly beat Hillary Clinton by just 1.5 points in that same district — a fact Democrats were all too eager to point out before the election, when they were trying to argue that the seat was winnable.
The benefit of incumbency may help explain why all the special congressional elections to replace Trump cabinet picks have been much closer than they had any right to be. At the same time that Democrats were narrowly losing Georgia's special election last night, they lost another special election in an even deeper red district in South Carolina by a similarly slim margin.
All this to say that Democrats shouldn't overestimate the narrowing gap in these congressional races.
But there is a silver lining for Democrats, as incumbency is a double-edged sword. While none of the Republicans running in these special elections had the benefit of having previously held the seat, they also didn't have a Congressional voting record to run against. That will not be the case in 2018, when many Republicans in competitive districts will have to explain their support for the remarkably unpopular Republican health care bill — a bill Handel has supported.
The key for Democrats will be to not get bogged down in making their race a referendum on Donald Trump and focus on issues — like health care — that matter most to voters in their district. As Mic's Will Drabold, reporting from the ground in Georgia, observed, some of the most passionate progressive organizers in the district did not consider Trump to be a motivator for their involvement. To them, the narrative that this race was about Trump was driven by the national media and Washington, not people in the district.
This is Mic's daily read on Donald Trump's America. Welcome to the newsletter that wins every special election.
Today's question:  Can Democrats actually win a congressional race in the age of Trump? Email us at trumpsamerica@mic.com and join us for $1 a month to discuss this in our Facebook group.
Please respond to this email with your thoughts.. And if someone forwarded this to you, do the right thing: Subscribe here.
What we're watching
Today: The nation reacts to the Georgia 6th Congressional District race, as Democrats fail to clinch a congressional election win in the first six months of the Trump era.
More: Donald Trump takes his own victory lap after Karen Handel wins the special election.
Even more: Jared Kushner arrives in the Middle East to try and restart peace talks between Israel and Palestine.
Trump's schedule: Trump is in Cedar Rapids, Iowa, where he will hold a rally with supporters.
Senate Republicans plan to release their health care bill tomorrow.
Senate Majority Leader Mitch McConnell (R-Ky.) says that Senate Republicans will release their version of the House health care bill on Thursday. McConnell also said that the bill will move to the floor next week, as soon as it gets a score from the Congressional Budget Office. When asked about how much time legislators will have to review the bill, McConnell said there will be "plenty" of time and told reporters, "I think this will be as about as transparent as it can be."
Trump will make an announcement about the Comey tapes this week.
Ever since Trump first fired off a tweet implying that he may have taped his White House conversations with former FBI Director James Comey, the White House had repeatedly dodged questions about whether or not the tapes exist. But now White House spokesman Sean Spicer says that we can expect an announcement from Trump about the alleged tapes "this week." What that announcement will be and whether or not it settles the question about the existence of the tapes remains to be seen.
News and insight you cannot miss:
• Seattle's Socialist city council member just came up with a way to get young and poor people to vote (Mic)
• Stark report on opioid epidemic shows what's at stake in Trump's budget cuts (Mic)
• Sanders supporter trying to unseat Paul Ryan raises $100 thousand in first day of campaign (The Hill)