Kim Kardashian, Kanye West reportedly paying a surrogate $45,000 to carry their third child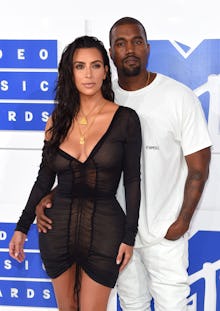 After two high-risk pregnancies, Kim Kardashian West and Kanye West have reportedly chosen a surrogate to carry their third child. Kardashian West has a medical condition called placenta accreta, which would make another pregnancy life-threatening, TMZ reported.
The Wests hired the surrogate, who will be paid $45,000 over 10 installments of $4,500, through an agency. Additionally, the agency required a deposit of $68,850. In the case that the pregnancy results in multiples, the surrogate will receive $5,000 for each extra baby.
The couple welcomed their son Saint West in December 2015 and their first born, North West, in June 2013. Kardashian West has been open about the life-threatening difficulties of both pregnancies.
During her pregnancy with North, Kardashian West had a rare condition called preeclampsyia and because of this she had to have an induced labor to deliver her daughter six weeks early. Immediately after, the doctor told West she had placenta accreta. She wrote about the experience on her blog in 2015:
Right after delivery, the placenta usually then comes out. Mine did not. My placenta stayed attached inside my uterus, which is a condition called placenta accreta. This is a high-risk condition that happens when the placenta grows too deeply into the uterine wall.
West underwent a post-delivery procedure to remove the placenta and was told she may need to have a hysterectomy after delivering Saint.
On a November episode of Keeping Up With the Kardashians, she considered a surrogate after consulting her doctors about having a third child, People reported.
"If the two doctors, that I trust, have told me it wouldn't be safe for me to get pregnant again, I have to listen to that," she said. "But because I don't know anyone that has been a surrogate or used one, I didn't really think about that as an option for me."
By the end of the episode, Kardashian West had began to consider surrogacy after seeking advice from another mom, Natalie, who had gone through the process.
"I've come to the conclusion in my mind that I can't carry another one. So now I want to explore surrogacy," she told her mom, Kris Jenner. Kardashian West's sister, Khloé Kardashian, considered being their surrogate, but found out she may have her own fertility issues after visiting a doctor.
Mic has ongoing Kim Kardashian West coverage. Please follow our main Kim Kardashian West hub here.