'America's Got Talent' 2017: Watch this ridiculously awesome dance routine earn the Golden Buzzer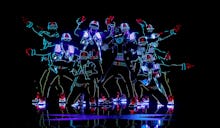 America's Got Talent has delivered yet another amazing performance that left not only the judges, but host Tyra Banks, absolutely starstruck. Right before dance group Light Balance began their routine, Howie Mandel leaned back in his seat and said with a smile, "This should be interesting." He was not at all wrong.
Light Balance's choreographed dance routine was a spectacular sight to behold. Frankly, it is hard to describe exactly what they were doing, or how they were doing it, but thanks to their use of neon light jackets, dancers disappeared and reappeared with ease, even imitating the wheels of a car.
When the routine was finished, it did not take Banks long to walk onto the stage, clearly in awe of what she had just witnessed. "Stop right now," she exclaimed. "I'm amazed by you guys. You guys, wasn't this incredible? Like, crazy good?"
She then proceeded toward the judges' table and slammed her hand on the Golden Buzzer, sending Light Balance to the live rounds.
Watch Light Balance's routine below:
Following the performance, Tyra Banks tweeted her thoughts on Light Balance's dazzling dance moves:
In addition to Light Balance, three other Golden Buzzers have been given out during the auditions. Simon Cowell awarded his to deaf singer Mandy Harvey, Mandel's went to 16-year-old singer Christian Guardino and Mel B chose 12-year-old Darci Lynne Farmer, who more than impressed as a singing ventriloquist.
Heidi Klum is the only judge yet to award a Golden Buzzer.
Mic has ongoing coverage of America's Got Talent. Please follow our main America's Got Talent hub here.