Colton Haynes joins 'American Horror Story' season 7 cast in a mysterious role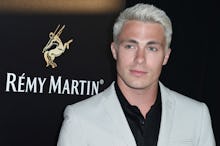 The cast of season seven of American Horror Story just keeps getting bigger and now Colton Haynes has been added to it.
On Tuesday, Ryan Murphy took to Instagram to share the news that Haynes has joined the cast of the horror anthology's seventh season. "Welcome to American Horror Story, Colton Haynes," Murphy captioned the picture, which features red all over Haynes' mouth.
"American Horror Story season 7... Already feels like home," Haynes wrote in the caption of the same photo he shared on his own Instagram. This isn't the first time Haynes has been part of a Murphy production. He appeared in a few episodes of season two of Scream Queens as Tyler, a patient at the hospital who had a disfiguring disease.
Haynes joins the long list of cast-members for the upcoming season. In April, Murphy also announced that Scream Queens actress and Carrie Fisher's daughter, Billie Lourd, had been cast.
Other new cast members include Leslie Grossman and Billy Eichner, making for one eclectic and standout cast.
American Horror Story regulars Sarah Paulson and Evan Peters are also part of the cast for season seven.
While it has not been revealed who any of the actors are playing, Murphy has said that this season is an allegory for the 2016 presidential election. "It's very scary and very fun and very … topical," Murphy told E! News.
Murphy also made a few things clear: Paulson will not be playing Hillary Clinton and the election setting is just the jumping off point for this season. "It is about the election we just went through and what happened on that night and the fallout of that night, which to many people, from all sides of the camps is a horror story," he explained.
There is no premiere date set for season seven of American Horror Story, but Murphy said fans could expect it earlier than usual, maybe even around Labor Day.
Mic has ongoing American Horror Story coverage. Please follow our main American Horror Story hub here.