Family of Otto Warmbier declines autopsy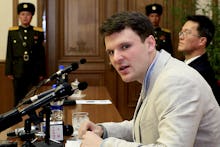 The family of Otto Warmbier, the University of Virginia student who was held captive in North Korea for more than a year and died on Monday shortly after his return to the United States, has declined an autopsy, CNN reported on Wednesday.
The decision means that, for now, Warmbier's official cause of death will remain unknown.
Warmbier traveled to North Korea in January 2016 on a tour organized by a China-based tour operator. While there, he was arrested by North Korean officials for allegedly stealing a propaganda poster from a hotel, and sentenced to 15 years hard labor.
Warmbier was freed in June and returned to the U.S. in a condition of "unresponsive wakefulness," according to a doctor who treated him upon his release. He was reportedly unable to see, speak or understand language.
North Korean state media reportedly claimed that Warmbier had contracted botulism and slipped into a coma, but a doctor from the University of Cincinnati Medical Center told CNN his "pattern of brain injury" is "usually seen as result of cardiopulmonary arrest, where the blood supply to brain is inadequate for a period of time, resulting in the death of brain tissue."
On Monday, Warmbier's family released a statement announcing that he had died.
"Unfortunately, the awful torturous mistreatment our son received at the hands of the North Koreans ensured that no other outcome was possible beyond the sad one we experienced today," the statement said.
The Hamilton County Coroner's Office in Ohio confirmed to CNN on Wednesday that it had honored the Warmbier family's choice not to have an autopsy performed on Warmbier's body, and had conducted only an external examination.