This high-end fashion brand is getting called out for co-opting the Black Lives Matter message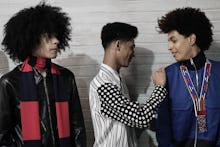 Certain fashion designers and brands have made an effort to shine a light on the Black Lives Matter movement in a respectful, meaningful way since its birth in 2012. There was Pyer Moss' New York Fashion Week show in 2015, when he showed a video on police brutality before clothes imprinted with words like "I Can't Breathe," all odes to the BLM movement and message. A few months later, Paper magazine published a photoshoot for Black Lives Matter, which featured black designers, black models, a black photographer and black stylists in order to spread the message of racial equality and justice further.
So appreciating the movement can be done correctly. But the way that the brand Ports 1961 tried to nod to the BLM movement at its show last week in Milan has proven to be problematic.
The "Black Lives Matter" slogan, down to the very font, was flipped into messages like "Every Color Matters" and "Only Love Matters." To some, this felt more like a dig at the movement, a not-so-subtle ode to the "All Lives Matter" slogan than to BLM.
On another sweater, the raised fist that's largely associated with black power and resistance was shown in multiple skin shades. Then Ports 1961 designer Milan Vukmirovic, who is not black but Serbian, came out in an "Only Love Matters" T-shirt.
Even in the Vogue review of the show, there was an immediate concern over what these messages really meant.
"A T-shirt that read 'Only Love Matters,' a broadening of the term 'Black Lives Matter,' felt, to this writer, troublesome (a movement that big and important and personal to so many should perhaps not help to serve a company's bottom line)," Vogue writer Nick Remsen wrote. "Ditto for a clenched fist on a jumper that opened the show; there are subtler and more sensitive ways to deliver a message of resistance and fairness and acceptance."
Those same ideas were echoed on Twitter as well.
The repurposing and co-opting of the Black Lives Matter movement, especially at a time when the man who shot Philando Castile isn't even convicted, understandably feels disrespectful to the movement as a whole. And putting most of these sweaters on black models doesn't make it any better.
In a comment to Mic, a representative from Ports 1961 wrote in an email:
"We think that fashion reflects the world around us. In a time of challenge, fear and disillusion, it is the creative person's role to try to deliver a message of love and hope. For the past several seasons, Milan Vukmirovic has been exploring the urgency of love and the importance of fraternity, unity and solidarity. It wasn't our intention to offend anyone but on the contrary this collection is, in its own way, a message of solidarity towards all the people who are suffering from discrimination, violence and bullying acts."
Still though, it's important to remember that Black Lives Matter is far more than a slogan on a T-shirt, or a trendy little anecdote for high-end designers to use for capital gain or to attract younger, more socially conscious audiences. It's about seeking justice and equality and striving towards a world where black people are far more respected as human beings than they are now.
June 21, 2017, 11:15 a.m.: This post has been updated.