A Berniecrat union ironworker challenging Paul Ryan raised $100K in the first day of his campaign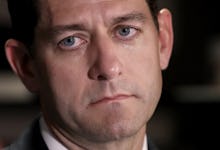 House Speaker Paul Ryan has a new Democratic challenger in his Wisconsin district, and he's straight out of the Bernie Sanders political playbook.
Randy Bryce, an ironworker, a card-carrying union member and a supporter of Sen. Bernie Sanders' (I-Vt.) 2016 presidential campaign who goes by the handle @IronStache on Twitter, has thrown his hat into the ring to challenge Ryan. And since declaring his candidacy on Monday, Bryce said he's already raised more than $100,000 in campaign donations.
Bryce will first have to run in the Democratic primary for Wisconsin's first congressional district against fellow Democrat David Yankovich who was also an early backer of the Sanders 2016 campaign.
Bryce has already enlisted some top level staff including Bill Hyers, whose past campaign experience includes working for politicians like Barack Obama, New York City Mayor Bill de Blasio and Sen. Kirsten Gillibrand (D-N.Y.).
"It's a winnable district and Paul Ryan has gotten away with being a nice local person that they like," Hyers told the Wall Street Journal earlier this month. "This is the first time where he's really going to have the face the voters with the fact that he's gone Washington."
Ryan will also face his own primary challenge from Paul Nehlen, a Republican businessman who has unsuccessfully challenged Ryan in 2016.