Birth control apps are helping women circumvent the conservative war on reproductive rights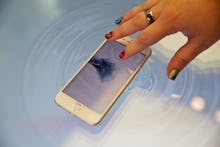 Texas is sprawling with "contraceptive deserts" — counties without at least one public clinic with a full range of contraceptive methods for every 1,000 women who need them. And with Planned Parenthood and other women's health clinics constantly under threat in Texas, legislation making it easier for employers and physicians to deny women birth control and that contraceptive drought, telemedicine is the only feasible option for many women.
Jessica Babbitt, a 29-year-old stylist from Canada who moved to Texas in 2010, found out about one such app, Nurx, while scrolling through Twitter. She noted that her insurance considered a visit to the gynecologist to be a visit to a specialist, which costs her more than the regular copay.
"Texas is very, very big and there are places where you don't have access to these kinds of things without having to drive 12 or 13 hours across the state to get access to an affordable mammogram, affordable birth control, any of those things," Babbitt said in an interview. "It's a big problem in Texas."
Kyle McCarthy, head of marketing at Nurx, said that since the company launched in Texas in June, "it has been busier than ever." Nurx is currently available in California, New York, D.C., Washington, Illinois, Pennsylvania, Virginia, Florida, Michigan, Missouri, Minnesota, New Jersey and Texas. It's slated to expand to North Carolina, Massachusetts and Ohio "very soon," McCarthy told Mic.
Nurx and a number of other telemedicine services (like Sherpaa, Teladoc and Azivia) are trying to make getting contraception and other reproductive health services as simple of a process as ordering takeout on Seamless — on which you can, in fact, order Plan B from a New York City bodega. With Nurx, women can get birth control, emergency contraception and HIV-prevention drugs delivered to them via the postal system, free with insurance and as low as $15 a month without it.
But it's important to note that Nurx and other telemedicine apps don't give women access to the full range of contraceptive methods, including long-acting options like IUDs or implants. Both IUDs and implants are available at Planned Parenthood centers and doctor's offices, and require a medical professional to insert them.
Kenzie Dyess, a 20-year-old sales representative, learned that Nurx was available in Texas from her Facebook feed. Dyess stopped taking birth control when she was 17 because it was too expensive and the doctor visits were "ridiculous."
"Recently they changed abortion laws and birth control laws here in Texas and things like that," Dyess said, referring to Texas Senate Bill 8, which requires that fetuses be buried or cremated in a "dignified disposition," and another bill expected to be signed by Gov. Greg Abbott that would allow pharmacists to legally deny women birth control prescriptions based on religious beliefs. (The ability for medical providers to refuse to provide care that's not in keeping with their religious beliefs is already federal law.)
"I don't know the details, but I know they're making it harder and harder on us women to get the things we need in order to take care of ourselves," Dyess said. "It's like the men in control are telling women what to do with their bodies, and they really shouldn't be, because everyone is their own person."
Shelby Holmes, a 25-year-old customer service representative, said that birth control has never been readily accessible in Texas and that, before Nurx, she stopped using the pill because it got too expensive and it was too difficult to coordinate constant visits to the doctor to renew her prescription. Plus, she said, she hated having to deal with judgmental pharmacists in her area.
"The only time I ever received any little bit of judgment would be the few times I would go to the pharmacy to pick it up, and it would be one of the male pharmacy temps," Holmes said. "Just the looks on their faces, the exasperation, it felt as if they were thinking, 'Oh great another one,' in a bad way."
Telemedicine helps women of childbearing age, particularly those in areas that are not well-served by the medical community, circumvent a system in which conservative lawmakers, medical experts and educators are telling them that they shouldn't be having sex, so they shouldn't be taking birth control. And if policies in states like Texas continue to chip away at women's reproductive freedoms, telemedicine may be the only way for many women to better manage their periods and choose if and when to have children.
"If women don't have access to health care and access to birth control in a way that is free of stigma, that is free of the red tape that it usually takes to get access to pills or patches or NuvaRing or whatever it is that you want," Babbit said. "Without access to those things, it just comes down to more unsafe abortions."