Sega Forever: 'Phantasy Star' and other Sega Genesis games are coming to your mobile device for free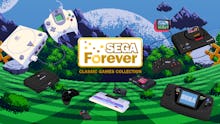 Before Sega's console division was mercilessly destroyed by the evil PlayStation empire in 2001, the company that "does what Nintendon't" had a huge library of diverse, fresh-as-hell games. Wouldn't it be nice if you could carry them in your pocket with you?
Play retro Sega games for free with Sega Forever.
With Sega's new Sega Forever mobile retro gaming platform, you can. Check out this very cheesy live-action trailer to see it in action.
Starting Thursday, you'll be able to play classic Sega games on the go for free. The free versions will include ads, so if you want to get rid of those and just own the games, each of them will cost $1.99. According to Sega's press release, the games will feature cloud saves, leaderboards and, most importantly, controller support. These games weren't made to be played with a touch screen, after all.
I know you're asking: "What specific games can I play with Sega Forever?" Five games will be available on the Thursday launch, all from the Sega Genesis era:
— Sonic the Hedgehog
— Altered Beast
— Phantasy Star 2
— Comix Zone
— Kid Chameleon
That's a fairly diverse and solid day-one lineup for Genesis fans. I would argue Altered Beast and Comix Zone likely won't hold up as well as you want them to — but, hey, that's personal preference. New games will come to the service every two weeks after that. If you're more of a Saturn or Dreamcast person, the press release says the lineup will eventually include games from "all Sega console eras."
If you enjoyed Sega games in your youth and you're not dedicated enough to dabble in enthusiast emulation solutions, this will be a decent deal. We're just hoping Gunstar Heroes shows up somewhere down the line.
More gaming news and updates
Check out the latest from Mic, like this essay about the sinister, subtle evils lurking in rural America that Far Cry 5 shouldn't ignore. Also, be sure to read our review of Tekken 7, an article about D.Va's influence on one Overwatch player's ideas about femininity and an analysis of gaming's racist habit of darkening villains' skin tones.