These #JusticeforNabra vigils honor the life of Muslim teen Nabra Hassanen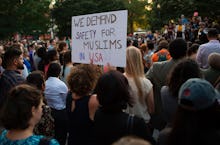 On Sunday, Virginia teen Nabra Hassanen was walking home from a mosque after late-night Ramadan prayers, when she was kidnapped and fatally beaten. While Hassanen's father refuses to call it anything but a hate crime, police are instead investigating the situation as a road rage incident. Officials are also looking into whether she was raped as well.
Supporters across the country have been mourning her death with a series of planned vigils. But on Wednesday morning, police announced that the memorial created for Nabra at a Washington, D.C., vigil was set on fire; police are investigating the incident.
This has been a particularly dangerous Ramadan for young Muslim women. In spite of yet another anti-Muslim act, these events offer a moment of reflection. Here are just a few of the tweets and images from the New York and D.C. vigils.
Washington, D.C.
New York City
Here is a full list of upcoming vigils and rallies.