Nintendo x LeSportsac: New bag collaboration is doom for video game fans' wallets everywhere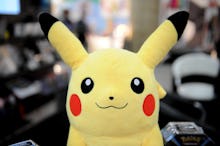 Nintendo has loosened its grip on its beloved characters more and more over the last few years. I never thought I'd see the day where Mario and Rayman's Rabbids would hang out in a game, but here we are. Vans and Uniqlo both had successful fashion collaborations with Nintendo — though Uniqlo may have missed the mark with its recent lineup. Now, LeSportsac joins Vans and Uniqlo as the latest sartorial venture for Nintendo.
Nintendo x LeSportsac bags: What's in the collection and when you can get it
According to Nintendo, there will be a number of options available from LeSportsac, including "crossbodies, totes, backpacks and weekenders, as well as small cosmetics and accessories." Nintendo has released sneak peeks at four pieces of the new Nintendo x LeSportsac collaborative collection, including a tote, a small pouch, a cosmetics bag and a backpack.
Nintendo's fashion collaborations are a step toward fans seeing more licensed merchandise available, instead of having to rely on shady knockoffs or fan homages, even if some of those fan works are damn good. It's better quality for fans, better selection for collectors and, as ever, a better bottom line for Nintendo.
The Nintendo x LeSportsac collection will be available in Japan on July 19. It will be available in other countries, including the United States, this fall.
More gaming news and updates
Check out the latest from Mic, like this essay about the sinister, subtle evils lurking in rural America that Far Cry 5 shouldn't ignore. Also, be sure to read our review of Tekken 7, an article about D.Va's influence on one Overwatch player's ideas about femininity and an analysis of gaming's racist habit of darkening villains' skin tones.