Alexandria Shooting: Shooter acted alone, no terrorism involved, FBI says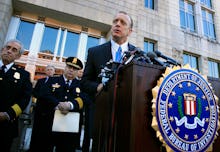 On Wednesday, the FBI offered an update on the June 14 shooting during a congressional baseball practice, revealing more information about shooter James Thomas Hodgkinson.
In a statement to the press, the FBI revealed that Hodgkinson acted alone, and no nexus to terrorism is currently suspected. The agency is investigating the attack as an assault on a member of Congress and an assault on a federal officer.
Hodgkinson had reportedly been in Alexandria, Virginia, where the shooting took place, since March 2017, the FBI revealed. Officials determined Hodgkinson had made frequent visits to a storage facility in Alexandria during his time there, in which "a laptop computer, more than 200 rounds of ammunition, a receipt for a November 2016 gun purchase and additional SKS rifle components" were found.
Hodgkinson had a history of domestic violence, having been arrested for domestic battery in 2006. He obtained the firearm he used in the attack "legally through federal firearms licensees," the FBI noted.
After searching through Hodgkinson's digital history, the FBI revealed the shooter had made his "anti-Republican" views known on his social media pages, though the FBI noted these posts were First Amendment-protected speech. The shooter made no specific online threats against members of Congress or the congressional baseball game.
The evening before the shooting, the FBI revealed Hodgkinson had searched online for "2017 Republican convention," as well as a map from Alexandria to his home in Belleville, Illinois. Just before the incident took place, Hodgkinson reportedly asked a witness at the baseball field, "Is this the Republican or Democrat baseball team?" and remained on the scene when told it was a Republican practice.
Following the shooting, officials found a piece of paper on Hodgkinson with the names of six members of Congress, though no context was given on why he had written down their names. A rough sketch of several Washington, D.C., streets was also found on Hodgkinson, although this document was "not deemed to be of investigative significance" to the FBI.
Five people were injured during the June 14 shooting, including Hodgkinson, who the FBI confirmed in their update is dead. Louisiana Rep. Steve Scalise's condition following the shooting was upgraded Saturday from "critical" to "serious," with House Majority Leader Paul Ryan confirming that the congressman is doing "a lot better."