This beauty brand is encouraging female empowerment, one lipstick at a time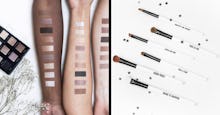 For decades, beauty brands and advertisements have featured models that appear practically flawless. From blemish-free skin to perfectly arched brows, these models epitomize unattainable beauty standards. Now, however, brands have begun to embrace imperfections, rallying behind anti-retouching campaigns and catering to a new demographic of women — women that want to see models with acne, cellulite and curves.
Enter RealHer, a makeup brand that encourages female empowerment and authentic beauty. In addition to RealHer's natural, cruelty-free products, the company is founded on the basis of philanthropy, donating 20% of all gross profits to the American Association of University Women, which is a nonprofit dedicated to empowering women.
RealHer founder, Bill Xiang wanted to create a beauty brand for his daughter that was both thoughtful and positively affirming. He hoped to establish a brand that inspired modern women to embrace their individuality and flaws.
"I want to do something that can help make a difference: I want to empower women, to inspire women to be themselves, to fight for the equality of all women — including my little girl," Xiang said in an interview. "Women should feel powerful — not ashamed."
Xiang says the beauty industry constantly shows their consumers that they're not enough. To counteract this, RealHer wants to make women's morning routines about feeling good, as opposed to feeling pressure to "look good."
Thus, each RealHer product features motivational quotes and phrases on its packaging. From their "I Decide My Destiny" liquid lipstick to their "Be Your Own Kind of Beauty" eye shadow palette, each RealHer product is created to compliment and inspire its user. Of course these quotes look cute (especially in Instagram photos!), but Xiang says they are meant to help women start their day with a positive affirmation.
So why are positive affirmations so important? According to a 2013 study from Carnegie Mellon University, positive self-affirmations can "protect against the deleterious effects of stress on problem-solving performance."
Applying positive affirmations to an everyday setting suggests that these brief self-affirming statements can boost performance in stressful situations. Some studies even suggest that positive affirmations can help improve overall well-being. That's right, just a few simple words might be able to positively affect your self-esteem — how amazing is that?
"Putting a motivational quote on makeup imbues her morning routine with affirmation," Xiang says. "At RealHer, we have this notion that each application helps to reinforce the words of the quote on the product. Each quote is embedded with a meaning and all of these quotes help represent our goal to empower women and bring daily positivity into her life."
At the core of his business, Xiang says he wants the RealHer brand to influence women the way he would want other companies to inspire his daughter to become independent and successful, without telling her she isn't enough.
"My dream is that we can truly make a difference together to make it a better world for women."