Bill Cosby's lawyers are so confident about his retrial that they might even have him testify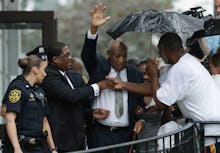 Fresh off Montgomery County, Pennsylvania, District Attorney Kevin Steele's announcement that his office would re-try Bill Cosby for sexual assault, the comedian's defense team is feeling good about their client's chances. So good, in fact, that they might even have Cosby testify at his next trial.
"We never ruled it out," one of Cosby's attorneys, Angela Agrusa, told NBC News Monday. "He's a very charismatic and articulate person."
Judge Steven O'Neill declared a mistrial Saturday in the 79-year-old comedian's first go-round in the courtroom, after jurors in Norristown, Pennsylvania, deliberated for more than 52 hours and couldn't emerge from a deadlock. Cosby was facing three counts of aggravated indecent assault for allegedly drugging and sexually assaulting Andrea Constand, a former Temple University employee, in 2004.
But having Cosby testify is a risky endeavor. It was the comedian's own words, after all, that produced some of the most damning evidence against him. In a series of deposition hearings that took place in 2005 and 2006, Cosby admitted to Constand's attorney, Dolores Troiani, that he gave Constand pills to relieve her "stress," then proceeded to touch her while she did not resist.
"I don't hear her say anything. And I don't feel her say anything. And so I continue and I go into the area that is somewhere between permission and rejection. I am not stopped," Cosby said at the time.
Cosby's attorneys did not call him to take the stand in his first trial. And there seem to be few reasons to subject him to aggressive cross-examination the next time, where he could potentially incriminate himself. Some legal analysts even say that Cosby's team has an advantage because there's not much prosecutors can do differently than the first time.
"There's not a whole lot you can change from the original case," David Rudovsky, a professor at the University of Pennsylvania who practices civil rights law, told the Los Angeles Times. The prosecution's case is more or less static. The defense, on the other hand, has more flexibility.
And as with the first trial, much of the next will hinge on whether the judge lets Cosby's other accusers testify before the jury (only Constand and one other accuser took the stand the first time). Cosby has been accused of drugging and raping upwards of 50 women since the 1960s. Most of their stories have followed a similar pattern: all were relatively young and either friends with or being mentored by the comedian when he allegedly took advantage of their trust, drugged them with sedatives and assaulted them.
Yet despite these accusations, Cosby remains a beloved figure to many. After several television and streaming networks initially pulled episodes of his celebrated Cosby Show from their schedules, at least two black-owned networks — Bounce TV and TV One — have quietly put the show back on the air. In statements to Mic, both networks cited viewer demand, claiming that their audience was able to separate "Cosby the man" from his TV character.
"While we take very seriously the accusations against Bill Cosby, our research showed that African-American consumers see a distinction between Bill Cosby, the man, and the iconic TV character Cliff Huxtable," a Bounce TV spokesperson said in an email.
It remains to be seen when and where Cosby's next trial will take place. But even in the face of the defense team's confidence, prosecutors have expressed certainty of their own. Steele cited the outcome of the last time he re-tried a case following a mistrial.
"I retried it and got a guilty verdict," he said.