In case you ever doubted it, being an unsigned model is hard as hell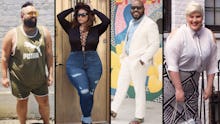 If you've ever seen an episode of America's Next Top Model, you've seen just how devastated contestants are when they're eliminated. No, they won't be getting that CoverGirl contract, the magazine spread and most importantly, that modeling contract. Close your eyes, think of the end of any episode, and you can probably still hear the wails.
Truly though, for some models, getting signed to an agency can be a lifeline, giving them representation and access to a world notoriously hard to permeate. So those tears and fits are largely justified, because being an unsigned model — or freelance — is hard as hell.
"Would I ever go back to being unsigned?" model Arisce Wanzer, who is 30 and has been working as a model for 13 years, 3 years of which were unsigned, said. "No. I am so fucking tired. When I was like 21, I was super hungry for it, and I would do anything and I totally put in the work, but I'm just in a grace period where I'm fucking tired."
So yeah, not for everyone. Without the support of huge agencies like IMG or Wilhelmina, or even smaller niche agencies like Slay Models or Zandwagon, you're booking your own gigs, setting your rates and most importantly making sure you get paid. This is one of those rare careers where, as a model, you really are selling yourself, so management is wholly helpful. It's a side of the industry that's barely ever exposed, but we started to get curious about it.
To learn more, we spoke with four unsigned models, as well as Wanzer, about what it looks like and what it really means to be an unsigned model today.
What's the average day like? You may think that life as a model is glamorous, going from hotel room to step-and-repeat, or bouncing around airplane seats in first class across the globe, but for many unsigned models, it's laborious and frustrating work that can come after or even during their full-time jobs.
"My day is waking up in the morning, checking Instagram and checking all the accounts for everything I work for. Then checking my own accounts and then heading out to work, checking social media on my way to work," Shay Neary, who made history as the first ever plus-size, out transgender model to land a campaign, said in an interview. "I'm kind of a machine when it comes to this kind of thing."
Because we are living in 2017, social media is where most of these unsigned models thrive, and source most of their work from.
"I'll teach and then during some of my breaks, if I don't have a meeting, I'll check email or Instagram," Kelvin Davis, a middle school art teacher who's modeled for Chubbies and is the rare plus-size male model, said. "After school, if I don't have coaching, I'll go straight home and reply to emails from companies or brands asking me about my blog. That's where the work comes in."
The benefits: At this point you may be feeling exhausted for these models, all their juggling of careers and emails and social media posts, on top of yet another career in modeling. But according to everyone we spoke to, it's not all bad. The most important benefit that being a freelance/unsigned model offers you is control.
If a model is signed to an agency, it's harder (and sometimes impossible) to say no. If a model is unsigned, they can be more in charge of their own future.
"You have control of your life. You have control of your destiny," Christina Mendez, who's been modeling for 13 years and has been unsigned for about 98% of that, said. "You have the ability to take your career where you wanna go, instead of someone saying, 'Well, we saw you with a bob, or we saw you with blonde hair, do that.' As a freelance model, you can stay your individual self and you can control how your career takes off."
That seems pretty important, right? As a human being, constantly being ordered to look a certain way, or act a certain way, is naturally unappealing. For models who are outspoken too, like model Troy Solomon, having an agency push him around just isn't part of his brand.
"I like that I'm not signed because I'm not in any mold," Solomon, who's been modeling for two years, said. "If a brand wants to work with me, I love that because they like what I already having going for me. No one's telling me to dye my hair back or cover my tattoos on a daily basis. It would go against my message to change myself because of what an agency would want from me."
The drawbacks: Creative control and control over your life aside, being an unsigned model has its major drawbacks. For one, an agency can act almost like an assistant, sending models gigs to show up to, rather than the models themselves having to research and dig and fight.
"Sometimes we're working harder than the signed models," Neary said. "I get questions for blogs and features and interviews all the time. The agency would do a lot of that walk through, where I am now taking time of my day and take two hours to write out answers and take time I'm already limited on. You have to find work for yourself."
When you're signed, you also have a greater chance of getting bigger, better, more well-paying gigs, while also being treated to things like those nice hotel rooms and airline seats.
"Unsigned means you're not getting into any of the big doors," Wanzer said. "You're never gonna be seen by Gucci, Alexander Wang. You're never going to enter that casting room. [Agencies] get you better-paying gigs too, and it's easier to negotiate because you have an advocate. It's a liaison. They're usually very stressed out people, because they're trying to make everyone happy."
What really makes an agency less inclined to sign? For some models, having an agent just doesn't make much sense. Specifically for models like Mendez, she's getting plenty of work on her own, including magazine covers and campaigns, so she doesn't feel she needs one. But for many of the models we spoke to, they would maybe like to be signed in the next few years. So why aren't they now?
For Neary, she thinks it may have to do with how many molds she's really breaking. As a plus-size model, she doesn't conform to the hourglass ideal. As a trans model, she faces transphobia and stigma. All of the unsigned models we spoke to have something that makes them unlike the Gigi Hadids and Kendall Jenners of the world. They are plus-size or not white or not cis. So identity can definitely play a part. Plus, the longer someone is unsigned, the more stigma there is against them in the modeling world.
"An agency means professionalism, because god forbid you're on-point when you're not signed to one," Neary said. "That same professionalism I have with all my day jobs, I have with this job in modeling. But it seems like the longer I'm unsigned, the more doubts are coming up against my own behavior and reputation."
That's something that Davis has felt as well. Companies want signed models because there is an assumed level professionalism. "It feels in a way that companies don't want to deal with the unexpectancy with a freelancer," Davis said. "If a freelancer missed a flight, or doesn't show up, it's like uncertainty. So they go a more secure route because an agency is going to make sure you're on a plane and all that. It's more like a security blanket."
It makes sense on the agency's part. The agency has a reputation to maintain and is responsible for more than just themselves, so there is more onus on them to exert professionalism. For unsigned models though, if one is late or unruly, then it can unfairly reflect on all other unsigned models immediately.
What can unsigned models really do? But for unsigned models, what's important to keep in mind is that not being signed isn't a death knell for their career. It's usually just the start of it.
"Being unsigned is not the end of your career," Wanzer said. "But if you are unsigned and want to be signed, you're gonna have to work for yourself just for a little bit. Put in the work. Be dynamic, because you need to show them that. Get some wigs, girl, show them you can rock it. Show them what you got. If you want to be a model, be a model. Be passionate about the damn job, and you'll be in the right direction."
Because truly, those skills you learn when you are unsigned is just training you for when you finally get signed.
"Getting an agent doesn't solve all problems," Wanzer insisted. "You have to take charge of your career, otherwise it's just going to be you doing whatever your agents wants. Like, your agents are going to You still have to fight for yourself. Those skills that I learned when I was unsigned, figuring out how much I'm worth, were everything."